[SatNews] ... is the leading airline on routes to and from Europe and Latin America, with the most flights and destinations between the two continents.
Iberia is now offering OnAir's inflight connectivity on transatlantic routes. Starting today, Iberia passengers flying between Europe and the Americas can use the inflight Wi-Fi and GSM during the flight.
Iberia is the leading airline on routes to and from Europe and Latin America, with the most flights and destinations between the two continents. The introduction of inflight connectivity is part of the airline's plan to improve the customer experience.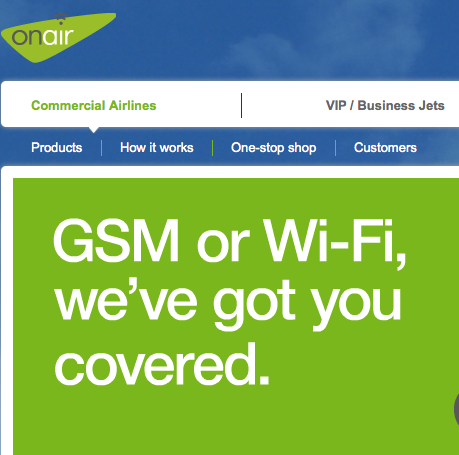 By 2015, both Mobile OnAir and Internet OnAir will be installed on 25 Iberia A330s and A340s. Passengers on these long-haul aircraft can use their phones and tablets to chat, tweet and send text messages.
"There will be no more waiting to update your social media status or wondering what's happening in the office," said Ian Dawkins, CEO of OnAir. "Passengers can be connected on routes across the whole world."
OnAir provides global coverage, thanks to its unique network of authorizations from over 100 countries and more than 375 roaming agreements, combined with Inmarsat SwiftBroadband's worldwide satellite coverage. It gives the airline's passengers exactly the same service wherever they are in the world.
"We're very pleased that another European airline is now providing our inflight connectivity," continued Dawkins. "Other regions, particularly the Middle East and Asia, are moving ahead fast with satellite-based connectivity and European carriers are at risk of having to play catch-up. I'm sure this will be the wake-up call they need to start proving what passengers want: the ability to stay in touch during flights."
OnAir sets the benchmark for global inflight connectivity solutions, with over 60 customers on five continents.
OnAir's products enable passengers to use their own mobile phones, smartphones, tablets and laptops in exactly the same way as they do on the ground, either through the onboard cellular network or the onboard Wi-Fi hotspot. OnAir also provides on-demand entertainment solutions, such as music, videos, newspapers and magazines with OnAir Play. The products are available as linefit or retrofit for all commercial aircraft, as well as government, VIP and business jets. OnAir products operate over all satellite links.
In addition, OnAir is developing the e-Aircraft in conjunction with SITA, offering solutions for all aspects of nose to tail connectivity. OnAir's latest solutions have added another dimension to inflight connectivity to optimize it for operational usage by the cabin and cockpit crew, and for maintenance and aircraft health monitoring.
OnAir was incorporated in February 2005 and is owned by SITA, the leading IT solutions provider to the air transport world. OnAir is a member of the GSM Association and an Inmarsat Distribution Partner for both SBB and GX Aviation services.