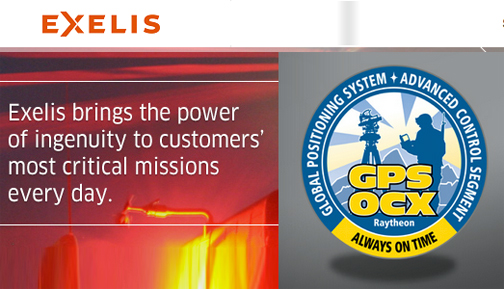 [SatNews] Exelis (NYSE: XLS) delivered six enhanced ground encryptors, which will improve information security for the Global Positioning System's Next-Generation Operational Control System (GPS OCX), to Raytheon Company (NYSE: RTN)—GPS OCX is part of the U.S. Air Force's GPS modernization program.

The Air Force will use the encryptors, which are about the size of a stereo amplifier, to protect information sent between OCX and navigation payloads on board legacy and next-generation GPS satellites. The encryptors play a central role in the management of cryptographic keys used throughout the ground system. Exelis shipped eight baseline encryptors in 2013 to Raytheon. Exelis support to GPS modernization is part of the company's overall focus on strategic growth in intelligence, surveillance, reconnaissance and analytics.
Once integrated into the OCX system, the encryptors will help ensure that the next generation of GPS satellites will be ready for launch, and will provide advanced capabilities and security to both military and civilian users. In addition to encryptors, Exelis is building high-precision receivers for use in OCX ground monitoring stations and satellite signal simulators for testing purposes. Exelis also provides critical elements of software in the OCX navigation processing subsystem that will enable controllers to better understand the exact position of GPS satellites. The navigation subsystem also helps ensure accurate navigation information is securely broadcast to users.

"The enhanced encryptors support M-code, the modernized military signal, which is an integral part of the GPS modernization program and important for the Department of Defense because it provides a separate signal with high jam-and spoof-resistance strictly for military use versus civilian," said Joe Rambala, Exelis vice president and general manager of positioning, navigation and timing. "Some of today's GPS satellites can broadcast M-code signals, but unlike GPS OCX, the current control segment cannot bring M-code online. The encryptors will be enablers for M-code processing to improve the overall GPS program and its security."

As part of the overall GPS modernization effort, Exelis is also on contract with Lockheed Martin to provide payloads for GPS III satellites. Exelis is a major space technology provider, supporting both the satellite and ground portions of the GPS modernization program. For nearly 40 years, Exelis payloads or payload components have been on board every GPS satellite and have accumulated more than 700 years of on-orbit life without a single mission-related failure due to Exelis equipment.