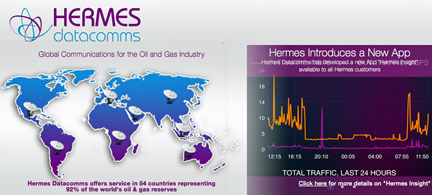 [SatNews] Hermes Datacommunications (M) Sdn Bhd, in conjunction with O3b Networks Limited and Maju Nusa Sdn Bhd, hosted a Technology Day at the end of last month at the Impiana Hotel in the heart of Kuala Lumpur's golden triangle, Malaysia.
The event was organized to demonstrate advances in telecommunications technology and included presentations, speaker panels and live demonstrations on new technologies.
Mohd Faizal bin Zainal Amri, General Manager, Malaysia, said, "The event was very well attended with more than 60 people from prestigious Oil & Gas companies including Petronas, Baker Hughes and Shell. Our aim was to demonstrate Hermes Datacomms expertise in providing new technologies including O3b, the next generation low cost, low latency satellite network, Advanced VSAT technologies delivering dynamic SCPC and examining the availability of technologies and systems for usage on KU-Band service which are gyro-stabilised, fast-deploy, remote units designed specifically for the Oil & Gas Industry.
The event also gave the company the opportunity to show case the new app launched by Hermes Datacomms early this year to enable customers to receive managed services at their fingertips. The "Hermes Insight" app is free and available to all Hermes customers, providing a single secure point of service to access vital information such as SLA status, monthly reports, management information, billing, project management and planned maintenance.
More information regarding Hermes Datacommunications may be gleaned at http://www.hermes.uk.com/