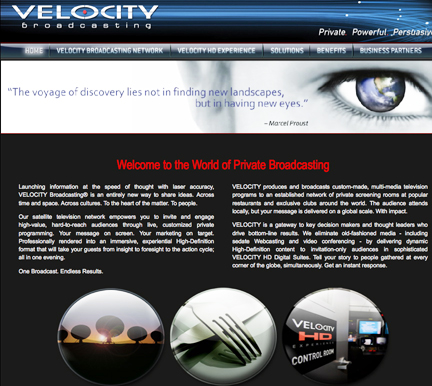 Pittsburgh-based VELOCITY Broadcasting(r), the largest global, private HD broadcasting network, now has a strategic partnership with Global Vision Networks, a provider of satellite-related services around the world.
As a result of this new partnership,
VELOCITY Broadcasting
has become the first global, private HD broadcasting network.
This global expansion now enables VELOCITY broadcast clients to assemble an audience anywhere in the world. VELOCITY can simulcast live to different regions, synchronizing communication across time zones to suit audience requirements and deliver a company's message to key decision-makers all in one night. Through the partnership with
Global Vision Networks
, VELOCITY Broadcasting has expanded its network, engaging high-value, hard-to-reach audiences at more than 200 network sites across six continents. The VELOCITY network consists of a worldwide array of award-winning restaurants, hotels and private clubs, all equipped with
VELOCITY HD Digital Suites
, providing an immersive viewing experience that can align audiences across time zones.