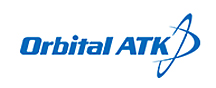 Orbital ATK (NYSE: OA) has completed their Rendezvous, Proximity Operations and Docking (RPOD) system preliminary design review — the RPOD system comprises the sensors, actuators and control algorithms which allow for the detection, tracking, and safe approach to a client spacecraft — the company's first Mission Extension Vehicle (MEV-1) will provide satellite life extension services to Intelsat S.A. starting in 2019.
Orbital ATK has been working with several NASA centers on various elements for the company's Mission Extension Vehicle (MEV) RPOD system as part of a Collaboration for Commercial Space Capabilities Space Act Agreement (SAA) established in 2014. In addition to completing the RPOD preliminary design review, NASA has also given input on the RPOD concept of operations review, electrostatic discharge management and lighting designs.
The SAA allows Orbital ATK's Advanced Programs Division and NASA to collaborate on technologies and new product development that meet the needs of the emerging space logistics industry. The SAA is an unfunded partnership through NASA's Collaborations for Commercial Space Capabilities Office at the agency's Johnson Space Center in Houston, Texas. The agreement defines principal milestones on Orbital ATK's scheduled commercial activities and allows NASA to offer assistance and feedback on key developments. By leveraging NASA expertise, the company will continue to enhance its innovative in-orbit programs for government and commercial space customers.
Through its wholly owned subsidiary Space Logistics LLC, Orbital ATK will introduce on orbit satellite servicing with MEV-1 which is based on the company's GEOStar™ spacecraft bus platform. Controlled by the company's satellite operations team, the MEV-1 uses a reliable, low-risk docking system that attaches to existing features on a customer's satellite. The MEV-1 provides life-extending services by taking over the propulsion and attitude control functions of the client spacecraft. The vehicle has a 15-year design life with the ability to perform numerous dockings and undockings during its life span. MEV-1 is set to launch in 2018 and, following its orbit raising and in-orbit testing, will provide a five year life extension service to an Intelsat satellite starting in the second quarter of 2019.
Frank Culbertson, the President of Orbital ATK's Space Systems Group, noted that this partnership with NASA through this Commercial Space Capabilities Space Act Agreement is an excellent example of how government can support commercialization of complex technology development, with NASA's collaboration and feedback helping to ensure that the company is on the correct track to deliver a safe and successful mission with Orbit ATK's MEV product, all the while pioneering a new market in satellite servicing.