[SatNews] Learn experts' views regarding the future needs of customers and the development of new applications and platforms, all this and more (whew) at...
London's Lancaster Hotel from September 12-14, which means there are less than three months to go until VSAT2012. Here the leading innovators in the VSAT market will deliver their views on the future needs of customers and the development of new applications and platforms. COMSYS has negotiated special discounted rates at the Lancaster London Hotel for conference attendees, subject to availability. Should you wish to reserve accommodation, please click on the photo at the right for further information.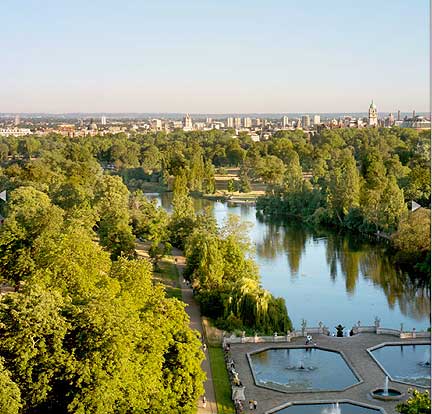 The COMSYS VSAT Conference reports indicate it draws the highest profile global speakers and delegates from the industry because it is the only event which covers operational experiences and customer application examples from all regions of the world. Whether you need an industry update, coverage of new technologies and market developments, a chance to network with some of the most influential people in the VSAT business or just some inspiration, the COMSYS VSAT2012 Conference will meet your requirements. Building on 13 years of success COMSYS VSAT2012 has moved to a larger venue to satisfy the demand for additional places—Lancaster London Hotel in Central London.
On the day before the main conference COMSYS offers a choice of one-day workshops (VSAT Market & Technology Essentials or Satellite Communications Fundamentals).
Key segment and application topics include:

Ka-Band Spot Beam Satellites
Retail IP Video
Broadband Futures
Remote Onshore Oil & Gas
Consumer Internet Access
Mining Production & Exploration
Femtocell / Mobile Backhaul
Maritime
Utilities and Smart Grids
MOFA and Government
Carrier Integration and Extension
VSATs and Cloud Computing
The VSAT2012  brochure containing a complete listing of speakers, detailed session descriptions and timings can be downloaded here.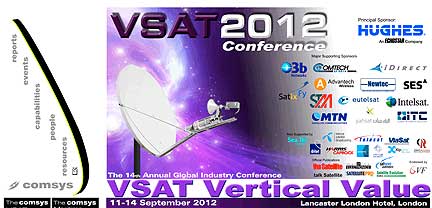 Both VSAT2010 and VSAT2011 conferences were sold out, so please book early to secure your registration. Conference registration rates are as follows, and there are discounts for GVF members and multiple registrations (see our web site for more details):
Four Days (Workshop and Conference): £2,050 + VAT
Three Day Conference Only: £1,540 + VAT
VSAT or Satellite Fundamentals Workshop Only: £640 + VAT
If you have any questions about VSAT2012 please contact: Rose Murphy rose@comsys.co.uk or Sandie Copp sandie@comsys.co.uk—or call them on +44-1727-832288.
The COMSYS Team's speakers, and sponsors can all be accessed when you click on the VSAT2012 brochure.