TeamCast has announced several new products, all of which will be on display at Satellite 2018 at the company's booth #2226.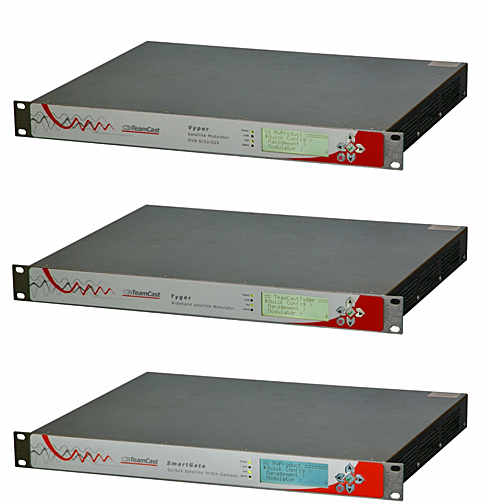 First up is a new version of their VYPER platform for Satellite Transmission — in addition to the support of many DVB-S2X features, such as low roll-off values, high baud rates, and efficient constellations, the new version brings the support of the Very Low SNR modes of SVB-S2X, allowing robust mobile satellite communication / transmission in harsh environment.
With these VL-SNR modes, the signal can be received even when it is several dBs below the noise. VL-SNR transmission is the solution of choice today for developing mobile services through satellite transmission. It makes the antenna system much more simple and opens many new applications such as internet services for trains, aircrafts, ships, etc. With emerging market opportunities, VL-SNR chipsets are coming soon for mass commercial deployment. This professional DVB-S2X VL-SNR modulation platform is the best tool for chipset validation, experiments and first commercial deployment.
Also heading into the show is the VYPER2way, the first satellite IP modem on the market with DVB-S2X Very Low SNR capabilities. On its well-known and reliable modulator platform called VYPER, TeamCast has added a professional FPGA based demodulator to manage the satellite return path. Fully FPGA based, the resulting two-way modem has been given totally innovative capabilities by TeamCast's expert team and offers unprecedented flexibility in terms of satellite IP applications.
Specifically, VYPER2way is the first IP modem able to cover such a wide range of satellite applications. With the ability to manage DVB-S2X constellations from BPSK to 256 APSK; it offers very robust satellite IP communication with SNRs down to -10 dB, as required by demanding mobile satellite applications, as well as high bitrate communication for telecom backhauling. VYPER2way uses GSE encapsulation for an efficient IP transport and offer symbol rates from 1 Mbaud to 72 Mbaud. To improve efficiency and reduce OPEX, it includes automatic precorrection of the satellite transponder and also VEC (VYPER Echo Canceller) to reduce the bandwidth occupancy.
TeamCast is also introducing a totally disruptive solution for optimizing satellite links — the solution uses a feedback channel through a regular low bitrate internet connection to optimize the link budget, and increase the available payload capacity while keeping your costs low.
The feedback information elaborated by the downlink Neptune receiver is used by the uplink Vyper modulator to pre-correct the linear and non-linear impairments of the on-board transponder chain. The optimization is automatic and transparent for the user. It can be used while the link actually carries user data, without any need to put the transmission on hold. No specific knowledge of the transponder characteristic is necessary; no specific skills are required for the operator. The link budget automatically increases while the link is used. That means the link margin is getting better providing the possibility either to secure the link against unexpected adverse conditions or increase the useful bandwidth by adjusting the modulation parameters.
SmartGate, a DVB-S2/S2X satellite modulator that embeds an advanced powerful filtering and routing process as well as a layer 2 and 3 optimized encapsulation with full management of PSI/SI tables, is another TeamCast new offering. SmartGate is a real IP and Ethernet Gateway with ultra-low latency for satellite access. It also offers an optimal bandwidth management and an NCR process to provide frequency synchronization to remote devices.
SmartGate has been chosen and adopted by Eutelsat and is used as key element in their V-SAT SmartLNB solution: a new and cost-effective V-SAT technology for satellite Machine-to-Machine (M2M) applications and for backhauling Internet of Things (IoT) infrastructures.