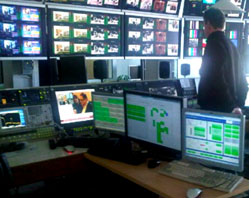 [SatNews] With the new function the entire system is started with one icon.
Visionic 5 is a centralized system, which is easy to use and saves time with its innovative functions and proven technology. It connects to a complete system, from ingest, to baseband, IT, RF and the infrastructure equipment, all in one single place.
With the new function of Visionic 5, Visionic Switchboard, the complete system is started with one icon. It is the central place for all Visionic projects and where all operators' and designers' tasks are organized into one user interface.
You will also have access to all the shortcut icons for all Visionic tasks and frequently used features in a simple click.
In the previous Visionic versions, HASP keys were needed for the software license. With Visionic 5, you have a simpler and software-based Visionic license, therefore you don't need HASP keys anymore and the installation is a lot faster and easier.
Another key point is that with Visionic 5, there is no need to pay for both design and runtime license anymore, as they both became one and only license, hence the money saved can be invested in other projects.

All Visionic 5 projects are stored under a single directory with the file structure compatible with previous versions (ini_files). This organization allows easier project management and import/export operations.

Click on the graphic on the right to learn more.

Projects also now carry their own copy of the drivers, so all the changes are local and affect only the current projects. Since all the device customizations are now within the projects, they are easily and quickly transferred from one computer to another.

Another important feature is that the new Visionic 5 is still compatible with custom scripts written for Visionic 4 servers. This minimizes the overall transfer time from Visionic 4 to Visionic 5 systems.

Several types of Visionic 5 licenses are available following the specification required by the accompanying application:

Visionic Professional is the full version aimed at large telecom systems worldwide and it supports an unlimited number of devices. It offers a solution for small and medium sized M&C systems for satellite and broadcast centers is Visionic Frontline, as it supports up to 7 devices.

Visionic VSAT is a preconfigured system for VSATs and SNGs. This license has been designed to support small systems with up to 7 devices. Visionic Lite is designed for SNMP and MODBUS devices only.