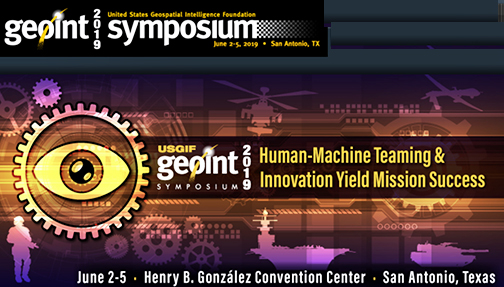 The United States Geospatial Intelligence Foundation (USGIF) has announced that Dr. Annette J. Krygiel as the 2019 recipient of the Foundation's Arthur C. Lundahl-Thomas C. Finnie Lifetime Achievement Award — Krygiel is the 15th individual to win this prestigious award and she was recognized on stage at the USGIF's GEOINT 2019 Symposium.
Krygiel is a native of St. Louis, Missouri, having earned her bachelor's degree in mathematics from Saint Louis University and a Ph.D. in computer science from Washington University. She served 38 years with the Department of Defense (DoD) in positions at the Aeronautical Chart and Information Center, the Defense Mapping Agency (DMA), the Central Imagery Office (CIO), and the National Geospatial-Intelligence Agency (NGA). She was DMA's chief scientist until her appointment as director of CIO in 1994. Krygiel has been an independent consultant since retiring from federal civil service in 1999 and has also participated in many advisory roles, including serving on the Naval Studies Board for the National Academies.
In collaboration with the National Defense University and the DoD's Command and Control Research Program, Krygiel authored the book, "Behind the Wizard's Curtain: An Integration Environment for a System of Systems." Additionally, she has received a number of awards to include the Defense Distinguished Civilian Service Award and the National Intelligence Distinguished Service medal. She was also inducted into NGA's Hall of Fame in 2001.

The Lundahl-Finnie award recipient is nominated and voted upon annually by USGIF's Board of Directors. This distinguished award was named for Arthur C. Lundahl and Thomas C. Finnie, celebrating their accomplishments — in imagery analysis and mapping, respectively — and their legacies within the GEOINT Community. Lundahl is known as the father of modern imagery intelligence and analysis and was the founding director of the National Photographic Interpretation Center. Finnie served as DMA's director of management and technology and was one of the primary architects of the agency's evolution into the digital era.
Krygiel said she is surprised, stunned, and deeply honored to receive the Lundahl-Finnie award and is humbled at this connection to two great visionaries who enabled geospatial intelligence capabilities critical to the nation. She added that her own career has been framed by their organizations, by people they mentored and, to some extent, by the strategies they employed. She said she was immensely grateful to the USGIF Board for this recognition and for including her among such distinguished awardees.
To learn more about the Lundahl-Finnie Lifetime Achievement Award and its past recipients, visit usgif.org/community/LifetimeAward.