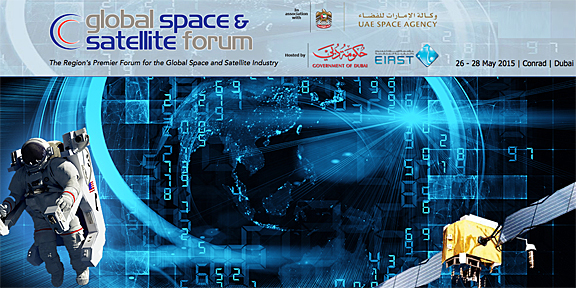 [SatNews] National investment in space technology is continuing to grow as the UAE seeks to develop a long term strategic plan for a solid and sustainable foundation for advanced space innovation and exploration.
All of which is expected to aid the growth of science and knowledge based economy. Compared to the USD$300 billion international space industry, the UAE's investment in space technology is already substantial exceeding AED 20 billion (USD 5.44 billion).
Leading industry experts from around the world will meet in Dubai at the Global Space & Satellite Forum (GSSF) in May to discuss how commercial space and satellite technology is creating new economic, social and educational benefits for nations globally. The forum will discuss topics such as space technology applications, innovative solutions; low-cost satellite developments such as macro and nano satellites; and how satellite systems are improving lives—ranging from life-saving developments in the field of disaster management to the delivery of entertainment media via handheld consumer devices.
Taking place from May 26-28, 2015, the forum, which is organized by Streamline Marketing Group (SMG), is a result of the close collaboration with the UAE Space Agency and Emirates Institution for Advance Science and Technology.
H.E Dr Mohammed Naser Al Ahbabi—Director General of the UAE Space Agency said, "We look forward to taking part in debating the key developments in space technology at the Global Space & Satellite Forum 2015. "We expect this forum to provide an arena that will showcase the competing commercially self-sustaining space programs which are emerging as a direct result of new space technology trends, leading a new era of space utilization similar to the one which paved the way for commercial aviation in the first half of the last century. Key to this, we believe, is the development of innovative space technologies and applications, some of which will enable low cost access to space and the emergence of affordable space exploration and human presence in space."
With an investment exceeding USD 5.44 billion in commercial and scientific space projects, the UAE is steadily progressing towards becoming a truly international player within the space sector. The investment in space technologies are shared among several companies and space programs including Satellite Communications Companies Yahsat, Thuraya and the Emirates Institution for Advanced Science and Technology (EIAST) who lead the DubaiSAT 1 and 2 programs.
For complete information, please visit this infosite.