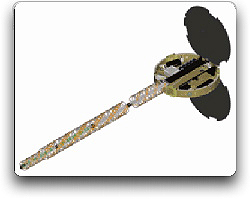 Hyundai Heavy Industries' Construction Equipment Division has selected ORBCOMM's [Nasdaq: ORBC] satellite network to provide global communications for Hi-Mate, its telematics application for heavy equipment.
ORBCOMM Inc., a global satellite data communications company provides Machine to Machine (M2M) solutions. ORBCOMM operates a network of
low Earth orbit (LEO) satellites
that provide worldwide coverage. These satellites are
relatively small in size
, weighing less than one hundred pounds and measuring only forty-two inches in diameter and six inches in height before deployment.
The relatively small size of the satellites is made possible by the fact that they do not require a propulsion system to maintain the satellites in the appropriate orbit,
and have significantly lower power requirements as compared to geostationary satellites.
HHI has signed a multi-year agreement with ORBCOMM's country licensee and reseller,
Korea ORBCOMM
, which will include rollouts of the new services throughout the world. Initial deployments have already begun in North America and will be expanded over time to include additional regions.
"HHI's selection of ORBCOMM further validates our position as the leader in heavy equipment telematics amongst global OEMs, and we are delighted to be working with them," said
Marc Eisenberg
,
Chief Executive Officer of ORBCOMM
. "The systems developed by HHI will benefit from
ORBCOMM's global two-way data communications capability and coverage, giving its customers considerable operating advantages, such as increased safety, higher productivity, greater availability, and better control of their assets.
"
"The decision by HHI to include a telematics solution using ORBCOMM was the result of extensive testing conducted over several years," said
Gene Song
,
Chief Executive Officer of Korea ORBCOMM
. "We are looking forward to a long relationship with HHI as they roll out this system to their customers throughout the world."
Hi-Mate was developed in-house by HHI as an onboard vehicle monitoring and communications system that will
allow owners and operators to monitor machine operating metrics, asset productivity, and performance information, around the globe
. The system utilizes satellite communication hardware technology developed by Quake Global, a leading device manufacturer for multiple applications utilizing ORBCOMM's network.