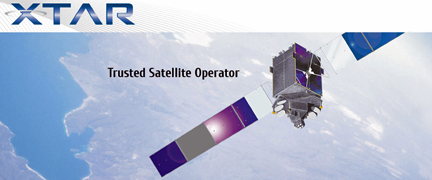 [SatNews] XTAR, LLC has signed an agreement with Leidos to support testing of manned airborne intelligence, surveillance, and reconnaissance (AISR) aircraft serving U.S. military missions around the globe.

The contract provides Leidos access to the Mount Jackson teleport located in western Virginia and continues XTAR's support of the U.S. government's expanding mobility applications. Under terms of the contract, XTAR will provide secure co-location space to house Leidos' own X-band antenna as well as terrestrial connectivity, which will allow Leidos to engage in testing various manned airframes, including the KingAir 350 aircraft. The testing will leverage X-band space segment capacity on the XTAR-LANT satellite located at the 30 degrees West location.
"XTAR's support to X-band systems developers, manufacturers, and integrators is our highest priority," said Andrew Ruszkowski, Chief Commercial Officer of XTAR. "We are providing a hassle-free environment for those who are making investments in X-band services by supporting the government user as well as others in the global community of X-band stakeholders. Working together with Leidos and the U.S. Army to successfully fulfill these missions, we created this co-location service to ensure streamlined access to XTAR's high-powered X-band capacity."
XTAR's service will facilitate more efficient and cost-effective testing by Leidos, which requested the Mount Jackson site because of its proximity to their own facility in Bridgewater, Va. The contract began at the end of 2013 and will continue through July 2015, with one additional one-year option. This contract is consistent with XTAR's crucial role in supporting airborne communications requirements and XTAR's strategy for supporting the development and testing of new X-band systems which provide the government user unmatched mobile communications capabilities.
The XTAR infosite is located at http://xtar.com/.
For additional information regarding Leidos, please visit https://www.leidos.com/.