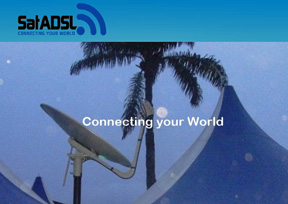 SatADSL has a number of briefings available at AfricaCom 2019 to discuss recent company developments — these include the acceleration of the deployment of the firm's global Points-of-Presence (PoP).
SatADSL is reaching out to new markets and communities, delivering its solutions and extensive value-added services portfolio globally. During the briefing, insight will be provided into the company's satellite networking solutions, including their Cloud-based Service Delivery Platform (C-SDP), which is a complete OSS/BSS, carrier-grade, fully redundant platform. The C-SDP enables, via the cloud, satellite services over any frequency band. This brings significant advantages such as fast time-to-market, flexible operation and future-proof services. The C-SDP already delivers commercial Ku-band services to areas throughout Africa, such as communities in Nigeria.
SatADSL is currently expanding its PoPs worldwide, with a new PoP recently opened in Singapore, which replicates its European model. The PoP enables operators to offer satellite services via the cloud without adding extra latency on top of that inherent to geostationary satellite communications.
In today's digital age, operators are expected to provide reliable, low latency and cost-effective connectivity to communities country-wide. These connections are crucial as they transform local communication capabilities. Satellite technology is increasingly being deployed to bridge digital divides. They serve areas where terrestrial infrastructure either cannot meet the customer demands or are impossible to build.
SatADSL's solutions combine satellite with cloud technology to provide operators with options to deliver the benefits of satellite-based connectivity. Furthermore, they can use satellite without incurring the hurdles often associated with the roll-outs, such as high CAPEX, uncertain returns and slow time to market.
Recent SatADSL news...
Capital Increase Completed by SatADSL and Serge Van Herck to Lead the Firm's Board of Directors