[SatNews] Virgin America (NASDAQ: VA) announces a new technology partnership with ViaSat Inc. (NASDAQ: VSAT) which will bring significantly faster WiFi connectivity to the airline's 10 new A320 aircraft deliveries, beginning in September of this year. Through this latest connectivity partnership, Virgin America will tap the power and economics of ViaSat-1, a high capacity Ka-band satellite offering 140 gigabits-per-second, to deliver the fastest WiFi connectivity service for high-quality video streaming.
ViaSat's technology will deliver Internet speeds that are typically 8 to 10 times faster than any other in-flight WiFi system, allowing travelers to experience Internet speeds similar to what they have at home, with the freedom to watch, stream video and shop directly on any connected device when in-flight. With this new technology, Virgin America will become the first commercial airline to offer an in-flight WiFi service that can operate in both Ku- and Ka-band satellite networks on the same aircraft. By deploying ViaSat's new hybrid Ku-/Ka-band antenna Virgin America can keep travelers connected virtually anywhere they fly, ensuring guests have an available connection in any given location. ViaSat's new hybrid Ku-/Ka-band antenna will enable in-flight WiFi connectivity on flights serving the airline's new Hawaiian destinations as of 2016.
"The idea behind our in-flight entertainment and connectivity offerings has always been to offer travelers more content, more interactivity and more of the choices they have access to on the ground," said Ken Bieler, Director of Product Design and Innovation at Virgin America. "Since 2009, our guests have come to rely on and expect WiFi access on every flight, and we've continued to improve our WiFi product offering over the years. Bringing ViaSat's satellite-based WiFi product to our new delivery aircraft will again allow us to make an industry-leading investment in our product. We are excited about this new technology and the possibility it opens up for WiFi coverage on our new Hawaii flights and for travelers who wish to stream video in-flight."
Virgin America will begin installation of ViaSat's systems immediately— with the first Ka-band antenna equipped aircraft to take flight in the continental U.S. in September 2015. Aircraft scheduled for Hawaii flights will be outfitted with ViaSat's hybrid Ku/Ka-band antenna in early 2016. During the beta period rollout of the ViaSat product, Virgin America will offer free WiFi access on its first ViaSat equipped aircraft. The airline will introduce pricing for the service in 2016.
"Our competitive advantage is rooted in the unique bandwidth economics of ViaSat-1 and the forthcoming ViaSat-2 satellite networks. We can empower airlines to engage all of their guests in an in-flight, online experience just like they'd get on the ground, including streaming high quality video," said Don Buchman, Vice President and General Manager, Commercial Mobility Business, ViaSat. "Virgin America is a brand that shares our love of innovation and strives to bring the best service possible to the traveler. By leveraging our technology, Virgin America can maximize passenger engagement and increase customer loyalty."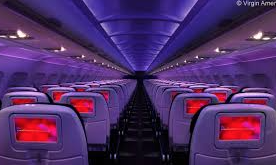 This news builds on Virgin America's announcement last month that it is upgrading to a new beta version of its Red® in-flight entertainment system. The new Red Beta creates an even more immersive in-flight entertainment experience with higher resolution capacitive touch screens, Android-based software that will allow for faster, real-time updates, three times more content—including full seasons of favorite television shows, more interactive maps, videogames including classics like Pac Man and Asteroids—along with the first surround-sound listening experience to be offered by an airline.
In addition to being the only U.S. airline to offer fleetwide WiFi as of 2009 and power outlets at every seat, Virgin America has made continuous investments in its in-flight connectivity system, including upgrading its full fleet to the latest generation ground-based WiFi system as of 2014 and now investing in the most advanced satellite-based WiFi system with ViaSat Exede® In the Air for its next 10 aircraft deliveries, giving guests the ability to access content beyond what is stored in the aircraft to stream online video content to their device over the internet. The airline has not yet made a technology decision with respect to the rest of the fleet. The airline's current product captures major travel awards, again being named as "Top Domestic Airline" in the annual Travel + Leisure's World's Best Awards for the eighth year in a row, the only U.S. airline with that distinction.
More about Virgin America's new ViaSat service:
ViaSat Exede In The Air Service:
Offers flyers in-flight WiFi and Internet streaming experiences—offering substantially more bandwidth to each guest on the aircraft.
Is the only in-flight WiFi service to offer passenger level service agreements to every connected passenger.
Leverages the bandwidth economics of ViaSat-1 and the upcoming ViaSat-2 satellite networks to deliver a high-volume, low-cost bandwidth model that empowers more flyers to do more online, such as stream high quality video, when in-flight.
Will use a single ViaSat high-capacity Ka-band satellite antenna to power both the in-flight WiFi connectivity and bring Virgin America's popular 18 channels of live Dish Network television to the airline's new Red Beta Android-based in-flight entertainment system. Virgin America currently offers 18 channels of live television via Dish Network on the 53 planes in its fleet.
Will provide Virgin America​ with the performance and scalability needed to keep pace with traveler demands for data-intensive websites and media-rich applications, while enabling flight crew access to aircraft operational data.
ViaSat Exede In The Air Hybrid Ku/Ka-band System:
Will be launched onboard Virgin America as the first commercial airline customer for in-flight connectivity service that operates in ViaSat's global Ku-band and high-capacity Ka-band satellite coverage areas in the first half of 2016.
​Will use a single, hybrid Ku-/Ka-band antenna, exclusively offered by ViaSat, to enable an aircraft to connect to the best available service depending on its location; similar to a mobile phone that automatically connects to the best available 2G, 3G or high-speed 4G LTE network, the dual-band Exede In The Air system can keep aircraft connected virtually anywhere they fly.
ViaSat's Ku- and Ka-band network covers 85 percent of the world's most traveled air routes.