[SatNews] Representing a significant step forward in the approval process for SwiftBroadband as a safety service, trials are now underway following the first installations of Cobham SATCOM's AVIATOR SwiftBroadband satellite communications systems on Hawaiian Airlines' Boeing 767-300 aircraft.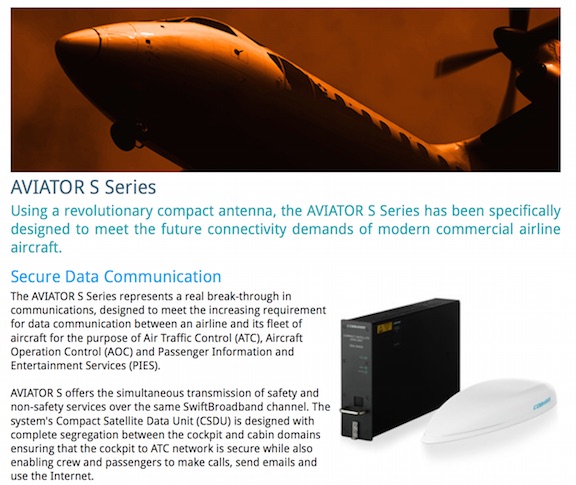 The agreement for Cobham to equip the Hawaiian fleet is also important in the development of Cobham's next generation product family, AVIATOR S, as the system will enable safety services data as well as EFB updates via IP data to the cockpit. Paving the way for other airlines and equipment manufacturers, the FAA-supervised technology demonstration will eventually allow the fast, efficient transfer of ACARS data messages over SwiftBroadband, as well as flight deck safety voice and IP connectivity, enabling other flight enhancing operations and cockpit services.
Hawaiian's B767s are being retrofitted with Cobham's current generation AVIATOR SwiftBroadband SATCOM hardware, which includes an IGA-5001 intermediate gain antenna. The system is capable of providing both voice and data communications with the addition of many enhanced features such as immediate aircraft tracking information and Ethernet ports for connecting devices like Aircraft Interface Devices (AIDs) and Electronic Flight Bags (EFBs) for the pilots to obtain real-time information including graphical weather updates. The connectivity will facilitate dynamic routing to favorable winds and away from unfavorable weather.
These enhanced features will become the centerpiece of Cobham's AVIATOR S product family, which is designed specifically to leverage Inmarsat's new SwiftBroadband Safety service and will ensure a system configuration that can meet the requirements of all aircraft types. AVIATOR S will be available early 2016 to coincide with approvals for FANS 1/A services over SwiftBroadband. The AVIATOR 200S airborne Satcom, the first system to be made available, features the exceptionally compact HELGA (combined HLD and Enhanced LGA) antenna which reduces the number of LRUs from three to two. This first Inmarsat Class 4 terminal by Cobham enables simultaneous transmission of safety and non-safety services over the same SwiftBroadband channel. The revolutionary new system will also afford space and weight savings.
During the SwiftBroadband safety evaluation period, the AVIATOR SwiftBroadband system will be used for FANS and CPDLC messaging and will also be used for data transmission in support of Hawaiian's new eFLIE, Electronic Flight Bag program (EFBs).
Kim Gram, vice president of Cobham SATCOM's aeronautical business unit, said, "Through these on-going trials, we are continuing to lead the way in the development of the next generation IP-based safety services which is represented by Inmarsat's SwiftBroadband Safety Services and our AVIATOR S product family. "Using SwiftBroadband IP connectivity for all domains of the aircraft is new to the aviation industry and will provide safer and more efficient flights due to better overall situational awareness and transfer of operational data to and from of the aircraft."
Additionally, Cobham SATCOM's HGA-7001 High Gain Antenna is part of the connectivity solution for the world's latest generation commercial airliner, the Airbus A350-900. The low-profile antenna, plus Cobham SATCOM's DAU-7060 DLNA (Diplexer/Low Noise Amplifier) and Floating Mounting Plate, are standard fit on the A350 XWB through a sub-contract with A350 XWB communications systems provider Rockwell Collins.
Cobham has delivered more than 50 antennas to date for the A350 XWB, which promises to set new standards in connected aircraft, customer experience and comfort, and operational efficiency. Deployed on a growing range of airframes, the HGA-7001 leads its field in drag reduction, weight, compactness and power requirements for aircraft connectivity systems. Complying with the specific requirements of the A350 XWB, a special mounting plate was designed to ensure that the antenna does not impart stresses on the composite airframe structure.
The Airbus A350-900, which recently received Type Certification from the European Aviation Safety Agency (EASA), as well as the Federal Aviation Administration (FAA) certification for use by US airlines, has already secured 780 orders from 40 customers worldwide.Using the SwiftBroadband flexible IP connectivity standard, technology on-board the A350 XWB focuses on the key areas of flight operations, cabin operations, passenger and maintenance. This crucially places the aircraft at the centre of the entire maintenance, operations and ground-based operations picture and enables features such as Electronic Flight Bags (EFBs), for real-time weather graphics, as well as maintenance activities and other updates from the ground.
Passengers can experience state-of-the-art In-Flight Entertainment (IFE) systems, with access to satellite live television broadcasts or connecting flight information, and the ability to connect to their own Personal Electronic Devices, while connected crew also benefit from new digital features. With its very high reliability, the AVIATOR HGA-7001 features phased-array technology that has proven its 'fit and forget' status with the air transport sector. Providing seamless coverage over the Inmarsat-defined hemisphere, the HGA-7001 is for use with Inmarsat Classic Aero (H/H+), Swift64 and SwiftBroadband Satcom systems for multi-channel service for a range of applications.
As well as providing connectivity for air traffic control, aircraft operation and EFBs for the cockpit, the HGA unit fulfills the demand for high data rates and broadband capability to offer fast and reliable connectivity on Inmarsat SwiftBroadband services for high quality, low-cost voice calling and the full complement of data services, supporting the use of WiFi enabled devices such as laptops, tablets and smart phones. Cobham's DAU-7060 DLNA separates transmit and receive signals and amplifies the received signal. It ensures that specified signals in the transmit band from the HPA are transmitted to the antenna with minimal power leaks into the receive band Low Noise Amplifier (LNA). It also filters unwanted harmonics generated in the HPA, providing protection against interference with other systems. Allowing flexible installation, it is ARINC-741 compliant and is compatible with Aero H/H+, Swift64 and SwiftBroadband systems.
U.S. avionics maker Rockwell Collins is supplying the communications, data network and landing system avionics packages for the Airbus A350 XWB, ensuring the management of voice and data communications of the aircraft, between pilots, flight crew, controllers and the airline company. The ARINC 781 satellite communications system features Safety Services and dual SwiftBroadband channel capabilities. The Airbus A350-900 Type Certification was awarded following a stringent program of certification trials which has taken its airframe and systems well beyond their design limits to ensure all airworthiness criteria are fully met.
Thirdly, Cobham SATCOM has started deliveries to supply 150 of its market-leading four-channel AVIATOR 1200SP SwiftBroadband system to AirAsia. Enabling a state-of-the-art In-Flight Entertainment solution, the system was selected as part of the Tune Box connectivity solution for the leading Asian Low Cost Carrier.
The system, which consists of the Satellite Data Unit SDU-7330-4, the High Power Amplifier HPA-7450, the Type F Diplexer/Low Noise Amplifier and Intermediate Gain Antenna IGA-5001, had been trialled by Tune Box and AirAsia since early 2014. After completing stringent customer assessment, the system was certified through a FAA STC on the AirAsia fleet of Airbus A320 aircraft.
Using the SwiftBroadband flexible IP connectivity, the roKKi service developed by Tune Box offers passengers a complete In-Flight Entertainment (IFE) system, with access to connecting flight information, hotel and car reservations as well as the ability to connect to their own Personal Electronic Devices.