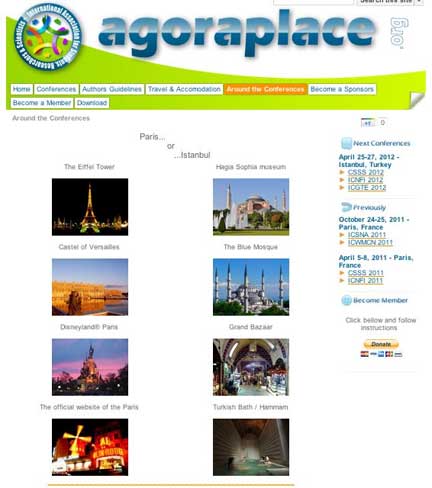 [SatNews] A fascinating melange of talented engineers and scientists telecommunications, electronic devices and systems for small satellites
International Conference on Student Small Satellites CSSS2012 will bring together leading young engineers and scientists in telecommunications, electronic devices and systems for small satellites around the world.
CSSS 2012 will be held in Istanbul, Turkey
. The
first goal of this conference is to provide a selective and interdisciplinary forum for research in Small Satellites Systems.
The
second goal is to provide a remarkable opportunity for the academic and industrial community to address new challenges and discuss future research directions in the area of small satellites
. The
third goal is to give the young participants a chance to meet experienced professors and experts from the industry.
Scope of Meetings between university and industry experts and young scientists:
1. Facilitating scientific exchanges between academic and industry professionals on one side, and students, young researchers and PhD candidates on the other side.

2. Promoting scientific results, new ideas, innovations, projects to young experts

3. Promoting the activities of young scientists from industry and research organizations

4. Promoting employment for young scientists


Important Deadlines: Submission (Full Paper): February 19, 2012

Notification of Acceptance: March 5, 2012

Registration: March25, 2012

Conference Dates: April 25-2, 2012
The site is located here.
Contents

1. Space Communications Applied to Nano-satellites

2. Nano-satellite Ground Segment & Operations

3. Nano-satellite Networks & Applications

4. Bus Satellite Technologies

5. Nano-satellite Development & Flight Experiences

6. Future Flight Opportunities for Nano-satellites

7. Market Studies for Nano-satellites Based Applications

8. Space Missions, System, Communication and Architecture

9. Software, Computing and Management for Space Missions

10. Project Management in University Environment

11. Regulatory and Legal Issues

12. Planetary Exploration

13. Nanorockets

14. Delay Tolerant Networks – DTN