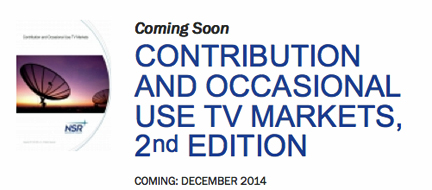 [SatNews] NSR's Contribution & Occasional Use TV Markets, 2nd Edition, provides data-driven analysis to quantify and help capture the market opportunity for contribution and OU TV services.
This report offers in-depth coverage and analysis to satellite operators, service providers, equipment manufacturers and investment analysts by providing qualitative assessments as well as extensive quantitative coverage through ten-year market forecasts in terms of feeds, hours, frequency bands, equipment, revenues and capacity.
This second edition NSR report phases out the fading population of analogue feeds, focusing instead on digital channel resolutions from SD to HD, 4K and 8K. The development of various service types ranging from pre-planned, long-duration sporting events to breaking, short-duration news are analyzed from a requirements and revenue perspective for all players along the supply chain including the exchange of capacity between contribution and occasional use.
Key Questions:
Where can revenue and market share be captured in terms of event type, geography, resolution and band for all links of the supply chain from equipment vendors and service providers to satellite operators?
What is the impact of developing 4K technologies vs. efficient compression standards - Will bandwidth-demanding, high-resolution standards outweigh efficiencies introduced by progressing compression technologies?
What is satellite's role in a growing IP world – What is the revenue potential for OU coming from pure data applications, data feeds for video applications and transmitting video over IP?
What role do non-traditional FSS technologies have in the OU market - How do HTS services and terrestrial technologies, such as fiber and cellular bonding impact revenues and market share?
To answer these questions, Contribution and Occasional Use TV Markets, 2nd Edition uses NSR's industry-proven methodology on a quantitative and qualitative level, giving readers a ten-year outlook on key variables supporting them to make business decisions based on the market today and a solid forecast of its development in ten years. NSR's Contribution and Occasional Use TV Markets, 2nd Edition continues NSR's previous coverage of the markets factoring in recent developments impacting the forecast and highlighting the comparison to last year's results.
Additional information is available at this infopage link.