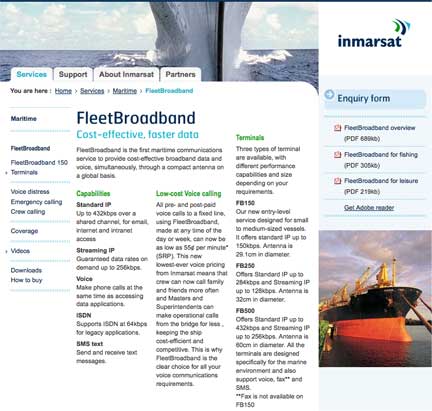 [SatNews] Voice Distress over FleetBroadband has won the "Safety at Sea" magazine's...
...Systems Award for helping mariners in difficulties. The judges received a record-breaking number of entries for the influential annual awards, which celebrate the role that safety managers and manufacturers play in saving and protecting life at sea across the international maritime market. Executive Editor of "Safety at Sea" Paul Gunton, commended Inmarsat's winning service. He said, "The judges felt that this was an important initiative, providing a simple and fool-proof distress alerting system that offered a significant enhancement to ensure that a distress message was sent and received as quickly as possible."
The Inmarsat Voice Distress (Non-SOLAS) service was launched last year to enhance safety communication on commercial and leisure vessels. It uses FleetBroadband to provide priority call access —interrupting all non-distress calls as soon as the red distress button is pushed. The emergency caller is then connected to an operator at one of three Maritime Rescue Co-ordination Centres (MRCCs) strategically located around the globe.