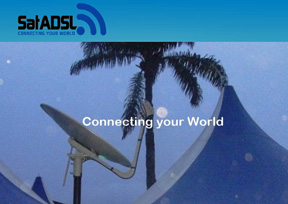 SatADSL has debuted an innovative new service for Mobile Network Operators (MNOs) in Africa, which will enable them to deliver satellite-based connectivity without investment in physical infrastructure.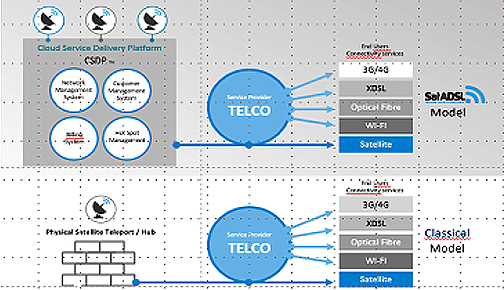 Using SatADSL's multi-band, technology-agnostic Cloud-based Service Delivery Platform (C-SDP), the solution allows MNOs to easily outsource their satellite services by providing, via the cloud, a complete OSS/BSS, carrier-grade, fully redundant platform. Initially, the offering will target MNOs in Africa, where terrestrial infrastructure remains limited due to vast rural areas.
Operating on Ka-, Ku- or C-band, the C-SDP includes an innovative Network Management System that allows IP traffic to be shaped and routed from and to different hubs as well as an in-built Customer Management Tool to enable MNOs to manage and monitor their own customers. A Hotspot Management System lets remote hotspot networks be configured, managed and monitored through the cloud and a Billing System enables online payments and automatic billing.


MNOs using the C-SDP will also have access to a large choice of pre-defined services, enabling them to easily meet all market demands, even as they continue to evolve.

SatADSL will showcase the advantages their C-SDP solution at the Mobile World Congress, which takes place at the Fira Gran Via, in Barcelona, Spain, from Monday, February 26 to Thursday, March 1.

Michel Dothey, CCO and Co-Founder of SatADSL, noted that satellite is a crucial tool for MNOs looking to serve new markets and launch additional revenue-generating services, such as business-to-business applications. While high investment costs, the risk of vendor lock-in and the uncertainty of the satellite market put many MNOs off investing in their own satellite infrastructure in the past, this new innovative solution mitigates these drawbacks, using the cloud to provide a fast, flexible and future-proof solution

Mounir Qalam, Senior Sales at SatADSL, added that satellite has traditionally been seen as a threat to MNOs; however, today satellite services are complementary and vital in achieving cost-effective, ubiquitous connectivity. The company's cloud solution is a world first.