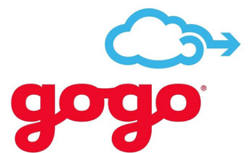 Gogo (NASDAQ: GOGO) has been selected by LATAM Airlines Brazil to introduce inflight connectivity using Gogo's 2Ku technology to 100 of its A320 aircraft, which operate flights in Brazil as well as to other countries in Latin America.
Gogo's inflight connectivity service will start in the first half of 2018 and the roll-out of the technology is expected to be completed in the first half of 2019. Gogo's 2Ku technology is installed on more than 350 aircraft today and delivers proven performance of more than 15 Mbps to each passenger device, covering more than 98 percent of all flight hours around the world with 98 percent system availability.

With an open architecture that leverages current and future Ku-band satellites, 2Ku offers unrivaled adaptability to keep airlines connected now and in the future. The equipment installed on LATAM's aircraft will include Gogo's new, performance boosting modem. The proprietary features of the new modem significantly increase throughput and reliability to and from the aircraft.
Michael Small, Gogo's president and CEO, reported that 2Ku delivers a ground-like internet experience, including the ability to stream video, to passengers on aircraft flying around the world. Importantly, 2Ku's technology outperforms all competing solutions.
Jerome Cadier, CEO of LATAM Airlines Brazil, added that this new service will complement LATAM Entertainment, the firm's wireless entertainment system, and will provide passengers with the freedom to select how they want to enjoy their journeys.