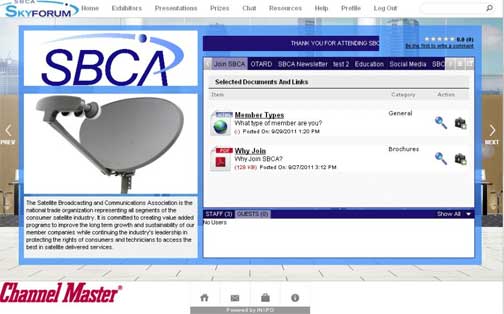 [SatNews] No need to take your belt and shoes off for the TSA just to catch a flight. Wear your slippers, sip your coffee and participate!
From far and wide the SBCA SkyFORUM 2011 will be open at 9:30 am ET Wednesday, October 26th and again on Thursday, October 27th. SkyFORUM 2011 is a unique online tradeshow that is designed to enhance the experience of all participants.
The Satellite Broadcasting and Communications Association is the national trade organization representing all segments of the consumer satellite industry, committed to creating value added programs.
The programs improve the long term growth and sustainability of its member companies while continuing the industry's leadership in protecting the rights of consumers and technicians to access the best in satellite delivered services.
Attendees can take part in live presentations throughout the day, visit exhibitor booths, chat with other attendees and more. And again on Thursday, October 27th see the agenda below.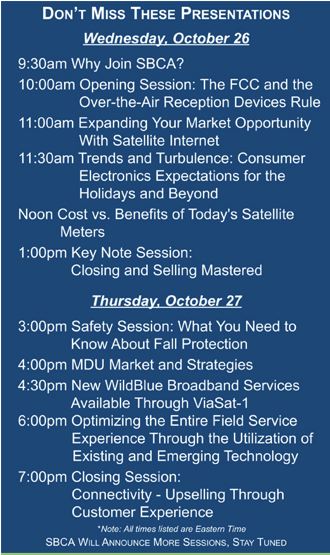 Registration is free and open at www.skyforumsbca.com. SkyFORUM will be held Wednesday, October 26th from 10am ET to 2pm ET and Thursday, October 27th from 3pm ET to 8pm ET. Register here.