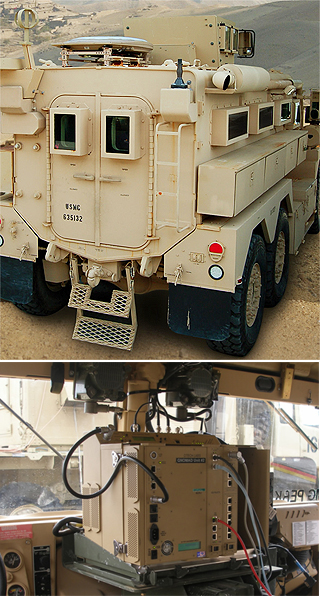 [SatNews] ITT Exelis is introducing GNOMAD, a mobile, on-the-move satellite communications (SATCOM) system...
.... that provides over the horizon, satellite communications for data and voice while on the move using a low profile broadband antenna and baseband solution which is modem and radio agnostic. The system was recently evaluated by the U.S. Army at the Network Integration Exercise (NIE) 12.1 at White Sands Missile Range, New Mexico. The NIE is a series of semiannual evaluations designed to integrate and mature the Army's tactical network so that it can provide soldiers, civilians and mission partners with the information they need in any environment.
The system provides Global Ku-band SATCOM on-the-move (SOTM), supplying a mobile network for an array of military and government agency vehicles. The system employs encryption devices currently in use by military and commercial users, supporting secure networks (SIPRNET, NIPRNET) as well as commercial internet, and client/server applications such as C2PC/Blue-Force Tracker, medical records and biometrics. The GNOMAD enables modern soldier radios to connect to IP networks, providing beyond-line-of-sight communications to radios such as AN/VRC-92, -104, and -110 as well as transferring Voice over Internet Protocol (VoIP) services where supported.