[SatNews] Iridium Communications Inc. (Nasdaq:IRDM) has announced that Thales Alenia Space has delivered two, complete, high-fidelity satellite simulators and a number of low-fidelity simulators to Iridium launch partner SpaceX.
The simulators, representing satellite flight units, are the exact volume, have the same mechanical interface and mass properties of actual satellites, and will be used in a variety of launch tests.
"With the support of our partners, Thales Alenia Space and SpaceX, we continue to make steady progress towards the launch of Iridium NEXT and are working to ensure our production satellites are fully operational on day one in space," said Scott Smith, CEO, Iridium. "We are working hand-in-glove with our mission team to ensure the launches are flawless. After years of hard work and planning, it is exciting to see the Iridium NEXT program coming together."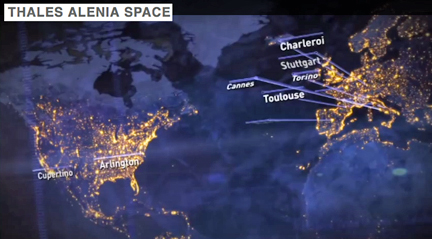 In total, 10 satellite simulators have been constructed, each about the size of a four-seat Cessna airplane. They will be used in numerous tests by launch partners Kosmotras, which will launch the first two satellites via its Dnepr rocket, and SpaceX, which will launch the remaining satellites via its Falcon9 rocket. Iridium is SpaceX's largest commercial customer, and, with an investment of $453.1 million, the Iridium deal represents the largest single commercial launch contract in history.
Iridium works closely with its launch partners to ensure the highest levels of quality and accuracy are met as the satellite design is locked down before production. The upcoming tests include structural and mechanical tests to ensure structural integrity and functionality, vibration testing for durability, and deployment testing to ensure the satellites release from the satellite dispenser appropriately when in space.
The Iridium NEXT satellite network will offer improved bandwidth, improved data speeds and the global coverage Iridium is known for. It will serve as a platform for the company's newly announced Iridium PRIME(SM) offering, a turnkey solution for hosted payloads which will offer all elements of a successful hosted payload mission, at an estimated cost savings of 50 percent or more compared to current stand-alone solutions. Due to the size of the Iridium NEXT constellation and rigorous testing built into this launch plan, it requires 10 simulators to ensure full testing with the launch platform.
Thales Alenia Space (http://www.thalesaleniaspace.com/) is leading the design and construction of the satellites for the Iridium NEXT constellation and the companies are working together to develop a Hosted Payload Controller for the Iridium PRIME bus to ensure independence and diversity of missions on Iridium PRIME satellites.
For more information on Iridium NEXT, please visit http://www.iridium.com/.