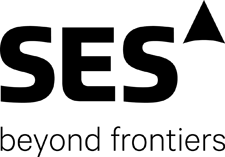 Following major space and ground infrastructure investments and the expansion of the company's Latin America video neighborhood, SES has launched their Ultra HD platform into the region to accelerate commercial 4K rollouts among leading cable, IPTV, and DTH providers across Latin America.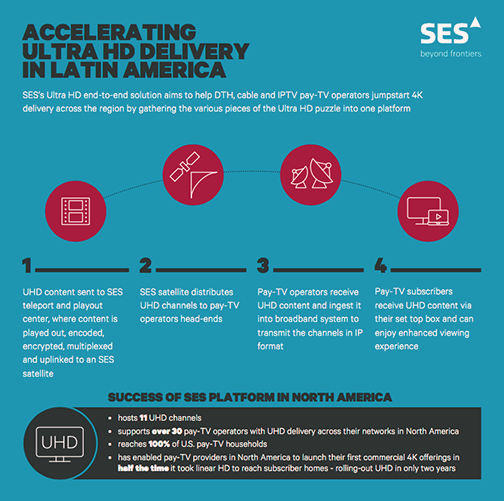 Many of Latin America's leading payTV providers are already testing SES's new Ultra HD solution, an all-in-one package of pre-configured Ultra HD content, reception equipment and satellite distribution that will enable quick and easy Ultra HD deployments over the region. The new SES Latin America Ultra HD solution will open with four Ultra HD channels, including NASA TV UHD, produced by Harmonic, as well as the SES Ultra HD demo channel, an incubator for emerging 4K content producers. SES plans to add new channels and content produced in Brazil, Mexico, and other Latin American countries in the future.
Like SES's North America Ultra HD solution, the end-to-end Latin America platform will be distributed over multiple SES satellites. SES-6 will provide dedicated delivery across 100% of the Brazilian market, offering programming flexibility for local content. SES's NSS-806 satellite, home to SES's Latin AmericanpayTV neighborhood, will serve the rest of the region until it is replaced by the recently launched SES-14 satellite later this year. Once SES-14 initiates service, SES plans to significantly expand the Latin America channel lineup on its expanding video neighborhood at 47.5 West. SES has experienced unprecedented 18 percent year-on-year growth in Latin America with more than 300 HD and Ultra HD channels currently hosted on its satellites.
Jurandir Pitsch, VP, Sales and Market Development for SES Video in Latin America and the Caribbean, noted that the company is ushering in a new era of advanced television services across the region with the launch of this new Latin America Ultra HD platform, which is enabling the efficient delivery of HD, Ultra HD, and OTT content to audiences throughout the region. Latin America's leading payTV providers are poised to offer Ultra HD content to their subscribers via the SES platform ahead of the 2018 World Cup, which is driving strong interest in 4K services across the region.