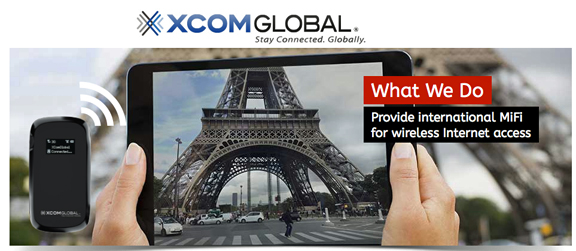 [SatNews] XCom Global, Inc., a leading provider of low cost wireless Internet access rental services for international travelers, has announced that the company has expanded LTE coverage in Asia-Pacific.
In addition to Japan and South Korea, super-fast LTE connectivity is now available in Thailand, Taiwan, China and Australia. XCom Global's fleet of mobile hotspots, which provide secure, reliable Internet connectivity for as many as 10 Wi-Fi enabled devices, have all been pre-tested to ensure that they are compatible with the specific network requirements of the local carrier. Having the correct equipment is especially critical to achieving LTE speeds and new devices have been placed in inventory to support these additional Asia-Pacific connections.
XCom Global's high-speed Internet access rental service provides international travelers unlimited data usage and the freedom to wirelessly roam abroad in over 175 countries around the world. Travelers arrange for their coverage before they set out on their trip so they can have an affordable data connection upon arrival. No technical expertise or unauthorized unlocking is required to receive a private and secure Wi-Fi connection using the company's World Wi-Fi hotspots, including support for WPA2 and VPN pass-through. Customer service is available 24 hours a day.