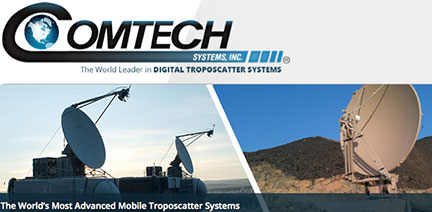 [SatNews] Comtech Systems, Inc. has released the world's first 50Mbps Digital Troposcatter Modem, the CS67500A.
This groundbreaking modem takes advantage of Comtech's more than 40 years of continuous troposcatter research and innovation to provide unmatched throughput for point-to-point, over-the-horizon communications. The CS67500A incorporates Comtech's advanced troposcatter features including troposcatter-specific Forward Error Correction (FEC) with embedded Turbo Product Coding, Automatic Code Rate (ARC) and Adaptive Link Power Control (ALPC) to maintain performance even under adverse conditions. CS67500A 50 Mbps Troposcatter Modem highlights include...
The CS67500A provides high-speed, low-latency transmission for over-the-horizon communications, without the need for satellites or multiple line-of-sight relays.The CS67500A is the latest generation of Comtech's CS-series digital troposcatter modem platform, which is fielded in over 90% of the high data rate troposcatter systems throughout the world
The CS67500A is the first troposcatter modem to be deployed capable of achieving 50 Mbps throughput
The CS67500A incorporates Forward Error Correction, Automatic Link Power Control, and Automatic Code Rate to maintain levels of availability that match or exceed that of satellite or line of sight communications
The first CS67500A modems have been integrated into the TSC-198V3 system and fielded to a US Army Expeditionary Signal Battalion for test and evaluation as a replacement for the legacy AN/TRC-170 troposcatter systems. The TSC-198V3 terminals have also been purchased by the US Army Integrated Air and Missile Defense program for use with Patriot Missile Battalions during global deployments. Comtech troposcatter systems play a vital role in the US Military C4I operations, providing intra-theater high-bandwidth range extension over beyond-line-of-sight distances, thereby reducing the demand on limited satellite bandwidth. The very low latency characteristics of these troposcatter systems are ideal for the critical, time-sensitive information used in missile defense.
An international version of the CS67500 platform will also be available in the near future. This will bring the CS67500's increased throughput benefits to the commercial sector as well, providing essential high data rate, over-the-horizon communication links for offshore oil platform networks, arctic communications, remote power generation, and other communications applications.
The Comtech Systems infosite offers additional information at http://www.comtechsystems.com/