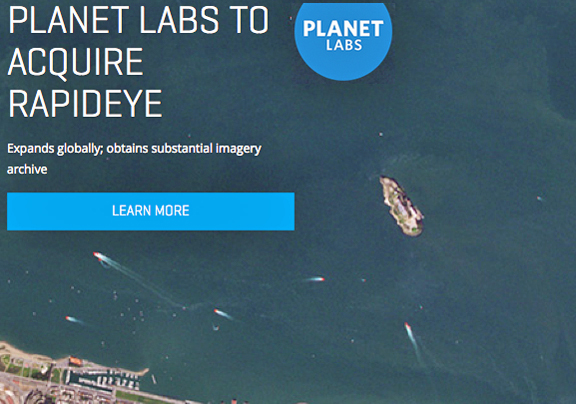 [SatNews] Planet Labs is acquiring the RapidEye and geospatial business of BlackBridge and will now have access to RapidEye's six year archives of global imagery, which encompasses six billion square kilometers of Earth.
Planet Labs, which sells satellite imagery collected from the firm's own network of 87 tiny satellites, will also now control the ongoing imagery collection from the existing five, on orbit, RapidEye satellites.
While most satellite imagery is refreshed every two years, Planet Labs wants to increase this frequency so they can let customers monitor land changes like deforestation, agriculture yield, etc. Most of Planet Labs' customers are concentrated in North America and Asia, while BlackBridge's customers are concentrated in Europe and South America. No financial information about this acquisition has been released by either firm. However, recently, Planet Labs managed to raise $183.1 million in funding— BlackBridge raised $22 million, according to the CrunchBase infosite.
All of the employees from BlackBridge's RapidEye and geospatial divisions will remain with Planet Labs, including the firm's CEO, Ryan Johnson. BlackBridge's networking division will apparently be spun off into a separate entity once this deal has closed.