[SatNews] The primary payload for Arianespace's second Soyuz flight from French Guiana....
.....is now undergoing fueling, while the upper stage that will orbit this Earth observation satellite and five co-passengers has completed its own "topping off" at the Spaceport. France's Pléiades 1 very high resolution imaging satellite is the largest of six spacecraft to be lofted by Soyuz during the December 16 launch. It will be joined by four French ELISA electronic intelligence (ELINT) demonstrators and the SSOT ("Sistema Satelital para la Observación de la Tierra") Earth observation platform for Chile.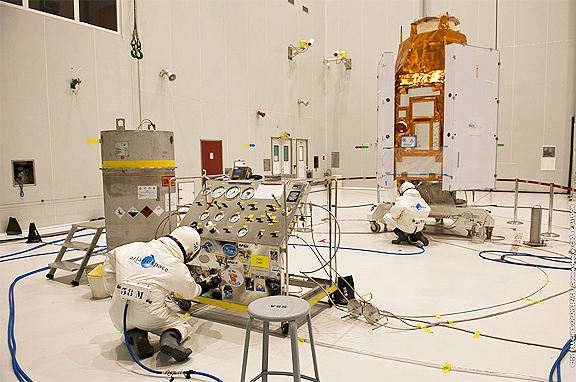 Pléiades 1 is shown, above, while being fueled in the Spaceport's S5 payload preparation facility. Built by the Astrium business unit of EADS, it will provide military and civilian users with processed 50-cm resolution imagery at ground coverage swath widths of 20 km. Pléiades 1 is based on a smaller, less expensive and more agile design than the predecessor Spot and Helios satellites – which were launched by Ariane vehicles beginning in 1986.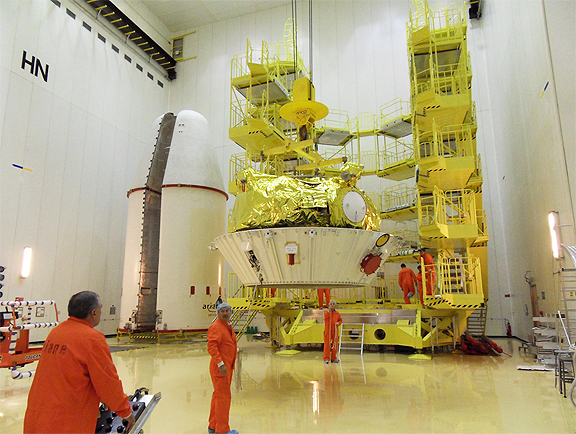 The photo above shows the Fregat upper stage for Soyuz has finished its fuelling process in the Spaceport's S3B clean room facility, and shown being moved into the integration stand where it will be fitted with Pléiades 1 and the mission's five co-passengers. Once assembled, this element of the Soyuz launcher, known as the "upper composite," will be completed by the protective payload fairing, which is visible at the left. The upcoming Soyuz flight from French Guiana follows Arianespace's maiden launch with the Russian-built medium lift vehicle, which was performed at the Spaceport on October 21.