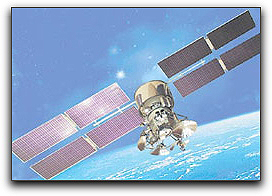 [SatNews] Due to satellite failure, the orbital incline of the Express-AM1 satellite has been impossible to maintain... this has been the case of as April 24, 2010
. The
Express-AM1
satellite was delivered to GEO 40 East on October 30, 2004.
The satellite was developed on order of the
Russian Satellite Communications Company
(
RSCC
) by
NPO Prykladnaya Mechanica
, named after
Academician Reshetnev
(today I
SS Reshetnev
), together with the Japanese company
NEC/TOSHIBA Space Systems
. The satellite carries 9 transponders in C-band (40 MHz), 18 transponders in Ku-band (54 MHz) and 1 transponder in L-band (0.5 MHz). The satellite's operational design called for a life-time on GEO of 10 years, with station keeping accuracy +/- 0.05 (N&S/E&W). The Express-AM1 satellite is designed to provide multiservice package, digital TV, telephony, video-conferencing, data transfer, Internet access, mobile communications as well as to establish VSAT networks with a footprint that covers the European part of Russia, CIS, Europe, North Africa, the Middle East and India.