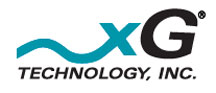 xG Technology, Inc. ("xG" or the "Company") (Nasdaq: XGTI, XGTIW) has announced that their IMT Vislink business has completed delivery of the first order against the previously announced $12.5 million U.S Army contract award.

The contract covers the supply of hand-held intelligence, surveillance and reconnaissance receiver (ISR) devices. Delivery of the first order was completed significantly in advance of the required delivery date of February 15, 2018.
George Schmitt, Executive Chairman and CEO of xG Technology, noted that the company successfully completed, shipped and delivered the first part of the Army order well in advance of the date by which the company was obligated to deliver. All appreciate the efforts of the firm's team in the United Kingdom and the U.S. to get the job done.