An exclusive collaboration between Network Innovations, Inc. ("NI") and Addvalue Communications Pte Ltd ("Addvalue"), a wholly owned subsidiary of Addvalue Technologies Ltd, to jointly develop market opportunities for the new iFleetONE™ terminal and Addvalue's proprietary Vessel Monitoring System, Addvalue iFleetONE-VMS™.
The Addvalue iFleetONE-VMS was recently type-approved by the U.S. National Marine Fisheries Service (NMFS) Office of Law Enforcement (OLE), and provides commercial fishing vessels with a technologically advanced solution that satisfies regulatory requirements to routinely and securely report GPS positioning.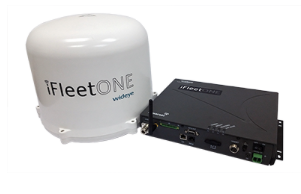 The Addvalue iFleetONE-VMS, with its broadband capability, represents an advancement in fisheries management VMS technology. The introduction of the Addvalue iFleetONE-VMS will enable fisheries management officials, biologists, researchers, analysts and NMFS Law Enforcement to have a cost-effective and suitable platform for applications that previously had been severely limited by the available technologies.
With over 10 years' experience providing VMS solutions for coastal U.S. fishing vessels, NI contributes a great level of expertise to the partnership with its dealer network and technical team that delivers the capability to instantly support the needs of this collaborative partnership.
NI's expertise in developing tailored airtime plans provides additional value to fisheries as they benefit from iFleetONE-VMS' real-time location reporting. Under the Agreement, NI and Addvalue will exclusively market the Addvalue iFleetONE-VMS to U.S. fisheries, creating the immediate need for an initial order of 50 units that kick-off the joint marketing program.
Matt George, VP Global Maritime Sales, Network Innovations, Inc. said that for U.S. Fisheries, this joint partnership is a win-win. Vessels will immediately benefit from the Addvalue technological advancements and continue to rely on Network Innovations as a trusted and established service provider.
Dr. Colin Chan, Chairman and CEO of Addvalue added that they are delighted to have forged this partnership with Network Innovations, and they believe that the collaboration will enable them to effectively penetrate the U.S. fisheries market for the mandatory VMS service.