Antenna Technology Communications Inc. (ATCi), a provider of ground-based commercial satellite communications systems and services, is now offering their new, low-cost, uplink packages starting at $50K.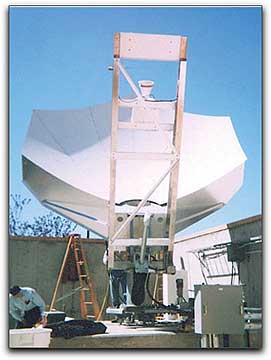 The new packages were designed to give customers the ability to transmit their own audio, video and data via satellite, which, in turn, allows them to broadcast the signals to large regional audiences.  Designed for a variety of applications,
ATCi
's uplink broadcast system provides flexible, turnkey, reliable service for companies with broadcasting requirements. The ATCi uplink system features superior performance across both C and Ku-Bands.  Besides the standard uplink package, ATCi also designs custom systems to meet unique requirements. These affordable uplink systems are in stock, offered for quick delivery, quick setup, simplified dish alignment, and fast time to air. The Company has provided and has installed hundreds of uplink systems to various locations throughout the U.S. Europe, Asia, Middle East, Africa and Latin America.
Additionally, the Company has successfully designed and implemented a digital broadcast system designed for local a channel and/or DMA extension system that saves cable and broadcast companies millions of dollars per year. Historically, cable companies and broadcasters have transmitted local channels via traditional microwave tower to tower technology. However, through the advent of MPEG-4/DVB-S2 and H.264 technology,
ATCi
was able to design and implement a custom system enabling cable operators who commonly provide cable television, telephone, and high-speed Internet services to
designated market areas
(
DMA
's) the ability to transmit HD programming via MPEG-4 over satellite. They can then trans-code the signal through their legacy MPEG-2 format, thus allowing them to ultimately deliver the signal to their existing STBs. By compressing the signal to MPEG-4, cable operators are now able to economically offer HD channels to all of their extended DMA's by utilizing this leading edge construct. By using this nexgen MPEG-4 technology coupled with DVB-S2, approximately half the bandwidth is saved while providing double the data throughput which translates into a tremendous cost savings. With these broadcast applications, ATCi provides all the RF equipment and installation services for the uplinked channels from a network of uplink facilities. ATCi handles the daily engineering, origination, playout, ad-insertion, automation, customer service and monitoring support to ensure the channels are successfully received by the extended DMA locations.