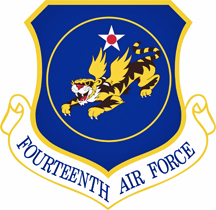 [SatNews] U.S. Air Force Lt. Gen. David J. Buck has assumed command of 14th Air Force (Air Forces Strategic), Air Force Space Command and Joint Functional Component Command for Space, U. S. Strategic Command, during a ceremony at the Joint Space Operations Center at Vandenberg Air Force Base on August 14.

Buck, who was promoted to lieutenant general during a ceremony prior to the change of command, previously served as Vice Commander, AFSPC, Peterson Air Force Base, Colorado. U.S. Navy Adm. Cecil D. Haney, commander, USSTRATCOM, and U.S. Air Force Gen. John E. Hyten, commander, AFSPC, presided over the ceremony during which U.S. Air Force Lt. Gen. John W. Raymond relinquished command to Buck.
During his remarks, Haney stressed the significant role JFCC Space plays in USSTRATCOM's strategic deterrence and assurance efforts and welcomed Buck into his new role. "Space underpins every part of our global economy and way of life," Haney said. "The strategic environment today is more challenging and volatile than ever before, and I can't think of a better leader than General Buck to take this incredible team forward to face the challenges which lie ahead."

Hyten echoed the admiral's trust in Buck, and also discussed importance of the space mission. "The global space enterprise depends on the availability and capabilities of DoD space assets," Hyten said. "The area of responsibility for the people in this room is 73 trillion cubic miles and you are the best in the world at what you do."

Buck started his Air Force career as an Enlisted Airman advancing to Technical Sergeant before receiving his commission in 1986 as a distinguished graduate of Officer Training School. His career spans a wide variety of command, operations, test and evaluation, and staff assignments. He has commanded at the squadron, group and wing levels and his operational experience includes missile operations, space launch and range operations, satellite command and control, space force enhancement, and space control. In 2010 he deployed to Southwest Asia as the Director of Space Forces for U.S. Air Forces Central.

As the commander of 14th AF, the Air Force's sole Numbered Air Force for space, he leads an operational mission that includes space launch from the east and west coasts, satellite command and control, missile warning, space situational awareness and command and control of assigned and attached joint space forces. As the commander of JFCC Space, which is the space component of USSTRATCOM, Buck is responsible for executing continuous, integrated space operations to deliver theater and global effects in support of national and combatant commander objectives.

Raymond, who leaves Vandenberg to assume his new role as Deputy Chief of Staff, Operations, Headquarters United States Air Force, praised the men and women of 14th AF and JFCC Space, said, "Thank you, I cannot say it enough for how much your effort has advanced our space capabilities. It has been my highest professional honor to serve as your commander. Your mission fuels the American way of life," Raymond said. "This job was the one I've always dreamed of," he continued, "and thanks to you, I am going to a job I never dreamed I could get. Thank you, God bless you, and God bless the United States."