Skyline Communications will be presenting their DataMiner Data Sharing (DDS) service in an exclusive preview at NAB 2018, offering a first glimpse of this new and highly innovative service, slated for release in mid-2018.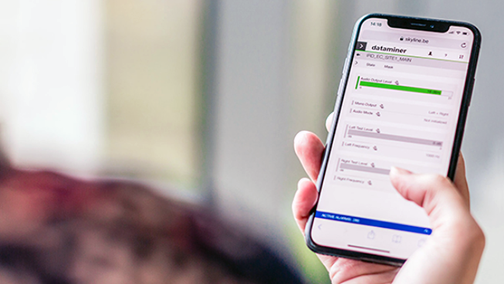 DDS enables operators that use DataMiner to easily and efficiently share data about their operation and services with third parties, in a highly controlled, secured and scalable fashion. In today's quickly-evolving broadcast, media and service provider landscape, multi-tenant virtual network operations (VNO) is one of the primary drivers for a successful business, and DDS, which is going beyond anything that has ever been available in this industry, is expected to be a major contributor in that respect.
Data Sharing
DataMiner, as the world's leading end-to-end multi-vendor network management platform, enables operators to integrate their entire operational ecosystem across any vendor, technology or platform boundaries. Therefore, DDS offers operators a single standardized method to easily share virtually any piece of information with third parties, irrespective of where it originates from in their operation. DDS offers extensive granularity, so that operators can choose exactly what they want to share, whether this is the value of a single metric such as a bandwidth utilization, an alarm status of a specific metric such as a service port, or even a complete resource (e.g. an IRD, a virtual machine, etc.) or a complete end-to-end service for that matter. With DDS, operators can literally pick any piece of information and its history, and instantly share it with a third party, effortlessly and in a matter of seconds.
DDS is an online extension available for any operator using DataMiner, regardless of whether their DataMiner platform is hosted on-premises or off-premises. As data sharing is brokered via the DataMiner Cloud Platform, there is no direct relationship between the provider and the recipient of the data, resulting in a highly secured, transparent and scalable solution, requiring no complex setup or maintenance. The solution also supports a variety of sharing methods, in order to guarantee easy consumption of the shared data on the recipient's end. In that respect, data can be shared via an online secured dashboard, via an online API feeding into the recipient's OSS platform, or even transparently straight into a DataMiner System if this is part of the recipient's OSS stack.
Ben Vandenberghe, the CEO at Skyline Communications, said that as third parties can, for example, be end-customers (Virtual Network Operators – VNO), business partners (B2B), technology suppliers, system integrators, and so on, the number of use cases is virtually unlimited. Sharing information in real time is a vital part of any economy these days, and with DDS, DataMiner is bringing the broadcast, media and service provider industry a new, disruptive and unprecedented service, which will have a fundamental impact on the dynamics of an operation. With just a single click, an operator using DDS will be able to instantly share a faulty device with one of his technology suppliers to facilitate troubleshooting in the morning. After grabbing a coffee, he could be sharing co-hosted resources with his business partner. Just to top it off around noon, he could then be sharing a KPI on a leased line.
Steven Soenens, VP of Product Marketing at Skyline Communications, added that DataMiner SRM is a true game changer in terms of end-to-end service and resource management. DataMiner SRM provisions and manages services end to end across all vendor and technology boundaries, for example from a satellite downlink across an IP transport into the media data center. Picture this — when a service is activated at the booked time, a DataMiner SRM platform driving an occasional-use operation in a fully automated fashion will now have the ability to automatically initiate a DDS data share for the end user of the service that was just provisioned. In other words, the end user will receive an email to confirm the service activation, and with a single click he is able to access an online dashboard, showing him the entire end-to-end service in real time. As you can see, Skyline again lives up to its reputation of literally redefining how broadcast, media and service operations are managed, and while all the individual pieces in a DataMiner System are truly innovative by themselves, the real magic starts to happen when all those pieces come together. That's the exact reason why DataMiner is, without a doubt ,the OSS platform of choice for leading operators around the world.