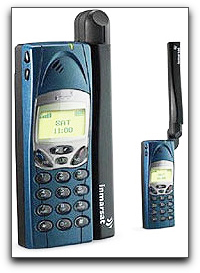 Vizada will, together with Inmarsat, launch a beta test program to validate full commercial readiness of the widely anticipated Inmarsat IsatPhone Pro.
Official commercial launch of the new service is planned for June 2010.
Vizada
will use its testing facilities and global distribution network to help Inmarsat ensure the
IsatPhone Pro
is ready for market. IsatPhone Pro is the first global handheld solution offered by
Inmarsat
. The company recently announced a low $699 MSRP, making satellite handheld service significantly more accessible to users. The product offers other competitive advantages — it works globally, is
Bluetooth
compatible, and will be sold as a complete handset and accessory kit. In addition, the handset is robust, capable of operating at extreme temperatures, ranging from -20°C to 55°C, and its keyboard is sized to accommodate gloved fingers, making it ideal for government, media, aid, oil and gas, mining and construction professionals working in challenging conditions and/or remote regions.
"During a recent call trial, the IsatPhone Pro exceeded our expectations on every level," said
Catherine Melquist
, director of marketing, Vizada Americas. "In addition to the reliability of the Inmarsat network, it offers global coverage, a robust handset with an ingress protection rating of IP54, clear voice quality, the longest battery life in the market — 8 hours of talk time and 100 hours of standby — and it is comparatively inexpensive and really easy to use."
Vizada will offer low cost IsatPhone Pro equipment, service and accessories along with
Vizada Solutions
— value added services that make the IsatPhone Pro even more capable by including fixed2mobile and prepaid calling solutions. IsatPhone Pro users will also benefit from
The Source
, Vizada's online account management and provisioning portal. In addition, Vizada is a master distributor for
Beam Communication
products, making the IsatPhone Pro docking stations, called
IsatDocks
, more cost effective for Vizada Partners to sell. IsatDocks will be used for base station charging, PBX integration, hands-free usage and other specialized functions and will come in four variants: basic, indoor, vehicular, and maritime.