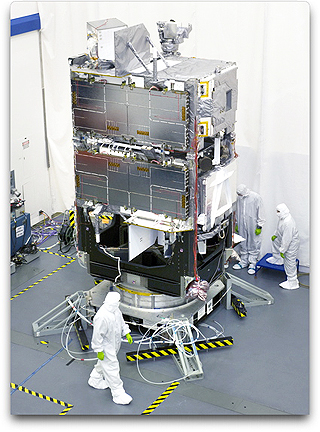 Northrop Grumman Corporation (NYSE:NOC) has delivered the first of two Space Tracking and Surveillance System (STSS) demonstration satellites to the U.S. Air Force's Cape Canaveral Air Station for launch preparation.
Using onboard sensors capable of detecting infrared and visible light,
STSS
will become part of land-, sea-, air- and space-based
Ballistic Missile Defense System
sensors. Once operational, STSS will demonstrate the key functions of a space-based sensor, passing missile tracking data to missile defense interceptors with the accuracy and timeliness necessary to enable them to successfully intercept missile targets. Northrop Grumman received an $868 million cost-plus award fee contract in 2002 from the
Missile Defense Agency
for development of the demonstration satellites. The STSS ground station, located at the
Missile Defense Integration & Operations Center
(
MDIOC
) at
Schriever Air Force Base
, Colorado Springs, Colorado, is already operational. Northrop Grumman developed ground system functions to support STSS spacecraft telemetry, tracking and command, and mission data processing.