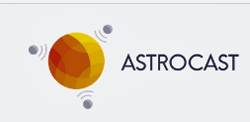 Astrocast (formerly known as ELSE SA) has announced the over-subscription by $1.1 million Swiss Francs of the firm's seed round funding, bringing the total seed round to $4.1 million.

The additional capital was provided by investiere.ch, one of Switzerland's leading start-up investors, and comes in addition to the current seed investors which includes Airbus Ventures, a Geneva-based independent asset manager and multi family office, as well as numerous additional Swiss- and internationally-based private investors.
Astrocast is currently developing a 64 unit network of Low Earth Orbit (LEO) smallsats that will provide cost-effective IoT and machine-to-machine (M2M) services to global enterprises. The seed round will support the company's business operations through Astrocast's planned demonstration mission that will launch the first two nanosatellites into LEO in mid-2018.
Astrocast is designed to provide unlimited coverage all over the planet, with no geographical limitations. The constellation's satellites will collect data, which will be delivered to ground stations, then distributed for access by customers through a secure internet gateway. Astrocast is expected to serve numerous sectors including smart agriculture, automotive, transportation & logistics, utilities, maritime, oil and gas, among many others.
In addition to this seed round, Astrocast has also secured $3 million in grant financing through Swiss grants and the European Space Agency (ESA) Advanced Research in Telecommunications Systems (ARTES) program.
The company was founded in 2014 by the team that developed the widely successful SwissCube, Switzerland's first satellite. The single-unit cubesat is still operational today, eight years post launch and well after its life expectancy. Astrocast's management team includes a number of satellite and IoT veterans.
Fabien Jordan, Co-founder and CEO of Astrocast, said that as one of the most active Swiss start-up investors, investiere.ch is an ideal partner for Astrocast. The company believes the high caliber investors that joined the firm through investiere.ch will help to bring Astrocast's solution to market and enable the monumental efficiencies and cost advantages the Astrocast constellation will drive across so many key global enterprises.
Lukas Weber, investiere co-investor, noted that Astrocast's team convinced the firm with their proven best-in-class expertise in the construction and launch of nanosatellites. Additionally, Astrocast has achieved impressive results and established partnerships with numerous leading players in the field, namely the European Space Agency and Airbus Ventures. The fact that Airbus also led this round further highlights that Astrocast's immense potential is not going unnoticed in the industry.