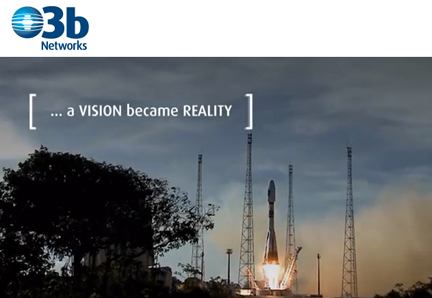 [SatNews] O3b Networks now has a multi-year agreement to provide trunking services to Solomon Telekom Company Limited (trading as Our Telekom).

Under the agreement, Our Telekom will use O3b as their backhaul provider from the Solomon Islands to the Internet. The Solomon Islands is the fifth largest nation in the Oceania region behind Australia, PNG, New Zealand and Fiji, with more than 1,000 Islands and an extremely dispersed population. Our Telekom is currently rolling out ADSL and embarking on 3G implementation to the main Islands. The O3b service will allow Our Telekom to significantly increase its bandwidth and improve the speed and quality of its service for business and residential customers in Honiara, the capital city of the Solomon Islands and, over time, to the Outer Islands.
O3b's next generation IP trunking solution that boosts existing link capacities to rival the affordability and latency of fiber. The O3bTrunk product line delivers lower latencies than long haul fiber, with round-trip latency of less than 150 milliseconds. The result is the highest quality voice and video in the satellite industry.
Loyley Ngira, CEO of Our Telekom, said, "O3b will allow the Solomon Islands access to ultra-fast and very low latency Internet in advance of the planned undersea fiber optic cable and will allow Our Telekom to in time provide faster services to other parts of the country and have a first class backup service for the fiber cable. O3b will enable Our Telekom to transform the way people in the Solomon Islands work, learn and allow the healthcare sector to use real time medical applications not previously available. For our tourism sector O3b will enable us to grow the market allowing travelers to have access to the high speed internet services they are used to in their own countries. Our Telekom has always been The Innovator in the Solomon Islands market and this partnership with O3b enables us to deliver even better quality of service to our customers."
Steve Collar, CEO, O3b, said, "Our Telekom will now benefit from the fibre-like speeds and low latency of the O3b network. Using MEO (Medium Earth Orbit) satellites at much low altitudes, O3b can offer fiber-like speeds with lower latency at more affordable wholesale pricing. Honiara will now be able to fully access the World Wide Web as easily and efficiently as users in any major city in the world. Accessing O3b's affordable and ubiquitous bandwidth with the performance and speed of fiber, Our Telekom customers in the capital will enjoy much improved connectivity."
The O3b Networks infosite may be accessed at http://www.o3bnetworks.com/.
Our Telekom information may be viewed at https://www.ourtelekom.com.sb/