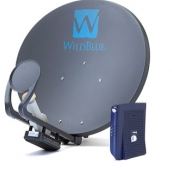 WildBlue Communications, today demonstrated how it can deliver download speeds that are up to 12 times faster than its current speeds if it gets a new high-capacity satellite.
It can cost around $500 million to build, launch and insure them. This privately held company provides rural broadband, and hopes that the U.S. government, will allocate some of the broadband stimulus money to help it buy its fancy new bird.
The new satellite would be able to offer broadband (depending on the speeds) to between
1.5 million and 2 million rural Americans
. The current satellite can handle about
750,000 users and serves about 400,000 WildBlue
subscribers.
The
privoso is that there are time frames that need to be met with the stimulus grants
; a project that receives stimulus funds must be substantially
deployed within two years
. Because building and launching a satellite can take two to three years, WildBlue may not make a good candidate.
Also up for debate will be whether the satellite, which is a high-latency and expensive technology, is the best way to use stimulus money.