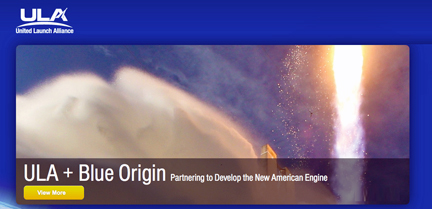 [SatNews] United Launch Alliance (ULA) and Blue Origin, LLC, have entered into an agreement to jointly fund development of the new BE-4 rocket engine by Blue Origin.

This new collaboration will allow ULA to maintain the heritage, success and reliability of its rocket families—Atlas and Delta—while addressing the long-term need for a new domestic engine. The ULA/Blue Origin agreement allows for a four-year development process with full-scale testing in 2016 and first flight in 2019. The BE-4 will be available for use by ULA and Blue Origin for both companies' next generation launch systems.
The BE-4 is a liquid oxygen, liquefied natural gas (LNG) rocket engine that delivers 550,000-lbf of thrust at sea level. Two BE-4s will power each ULA booster, providing 1,100,000-lbf thrust at liftoff. ULA is investing in the engineering and development of the BE-4 to enable availability for national security, civil, human and commercial missions. Development of the BE-4 engine has been underway for three years and testing of BE-4 components is ongoing at Blue Origin's test facilities in West Texas. Blue Origin recently commissioned a new large test facility for the BE-4 to support full engine testing.
"This agreement ensures ULA will remain the most cost-efficient, innovative and reliable company launching the nation's most important national security, civil, human and commercial missions," said Tory Bruno, president and chief executive officer of ULA. "Blue Origin has demonstrated its ability to develop high-performance rocket engines and we are excited to bring together the best minds in engineering, supply chain management and commercial business practices to create an all-new affordable, reliable, American rocket engine that will create endless possibilities for the future of space launch."
"ULA has put a satellite into orbit almost every month for the past eight years—they're the most reliable launch provider in history and their record of success is astonishing," said Jeff Bezos, founder of Blue Origin. "The team at Blue Origin is methodically developing technologies to enable human access to space at dramatically lower cost and increased reliability, and the BE-4 is a big step forward. With the new ULA partnership, we're accelerating commercial development of the next great US-made rocket engine."
The United Launch Alliance infosite is accessible via http://www.ulalaunch.com/
To learn more about Blue Origin, please visit http://www.blueorigin.com/