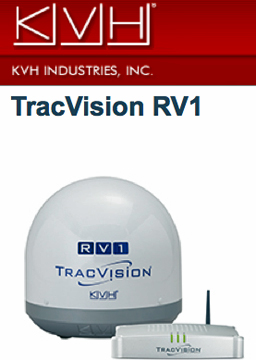 [SatNews] KVH Industries, Inc., (Nasdaq:KVHI) has introduced the TracVision(R) RV1, a powerful and compact stabilized antenna designed to provide superior performance for satellite TV reception from RVs and other vehicles.
The new system from KVH is designed to meet the needs of several key markets: RV owners, who want to enjoy their favorite programming no matter where they are parked or traveling; charter bus companies, who want to provide quality TV programming for the athletic teams and travelers they transport; and government and emergency personnel, who need access to breaking news while en route to, or in command of, an emergency scene.
Designed for simple, trouble-free operation, the 32 cm (12.5 inch) TracVision RV1 enables reception of satellite TV from moving vehicles by using a motorized antenna to constantly track orbiting satellites. This tracking ability is coupled with fast acquisition capability to facilitate immediate reception of television programming, whether the vehicle is in motion or stationary. RV1's single-cable design - just one cable instead of separate coax and power cables - addresses the need for fast and easy installation.
TracVision RV1 supports the same high quality satellite television services delivered to homes across North America from companies such as DIRECTV®, DISH Network®, and Bell TV, and will receive the HD programming of DISH and Bell TV. The system also supports select services in Europe that are broadcast using Ku-band signals. Innovative features of the TracVision RV1 include a streamlined IP-enabled TV-Hub delivering easy setup and operation, and a web-based user interface providing system access from any smartphone, tablet, smart TV, or computer. Highlights of the RV1's functionality and performance characteristics include:
High performance tracking ensures crystal-clear television picture in extreme conditions

IP-enabled antenna control unit with Ethernet connection and built-in Wi-Fi interface allows access to system information from any Wi-Fi device

Advanced inertial-based stabilized search enables fast satellite acquisition

Exclusive RingFire™ antenna technology provides stronger signals, wider geographic coverage, and better reception

DVB-S2 technology ensures compatibility with current and future Ku-band satellite services.
"The TracVision RV1 provides an unparalleled combination of high performance and ease of use for anyone wanting in-motion satellite TV programming," said Martin Kits van Heyningen, KVH's chief executive officer. "It doesn't get any easier than a single-cable installation, so our customers can quickly start enjoying TV entertainment on the road."
There's additional information at this KVH infopage