[SatNews] This new series of DC-DC Converter is designed for us terrestrials...
Modular Devices, Inc. (MDI) a global supplier in DC-DC Converter technology for space satellite applications introduces a new model series specifically designed for scaleable Cube and micro-miniature orbiting scientific platforms.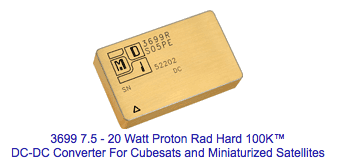 Series 3699 DC-DC power converters derive any variety of single and dual voltage outputs from the 12Vdc nominal (6 -16Vdc continuous operating range) input bus popular among CubeSat platforms in power ranges of up to 20 Watts.
Featuring high conversion efficiencies and patented Proton Rad Hard 100K+ R design technology. They all are fully self-contained hybrid converters that require no external components, have built-in I/O EMI filtering, on-off control, remote sense, soft start/sync inputs and come in a wide selection of hermetic packages for ease of mounting and effective thermal management.
Offered in a broad range of screening grades and parts quality levels, the 3699's are; easily and economically tailored to suit cost conscious; ready availability CubeSat program requirements; and deliver in short order from stock to 150 days ARO. Their flexible internal designs permit fast-turn product variants to suit particular power and control requirements of any scientific mission.
And...
Modular Devices, Inc. (MDI) rounds out its space flight heritage Proton Rad Hard 100K+ R DC-DC Converter product selection by adding a new model series 53080 in the 3.5 - 5 Watt power category; offering single and dual outputs from conventional 28V satellite bus inputs.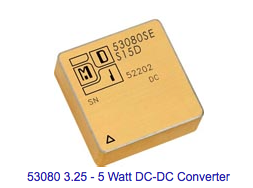 Like its larger, higher power counterparts in the flight proven MDI DC-DC converter product lineup for space, the 53080 incorporates a built-in MIL-STD-461C, CE03 input EMI filter, patented technology for 100Krad (Si), 2:1 margin for survivability beyond 200Krad, no Single Event Effects to 82MeV*cm2/mg and no optoelectronic components for resistance to proton fluency, with full DC-DC converter performance features including on-off control and short circuit protection all in a super compact, lightweight hermetic package.
Available in output voltages ranging from 1.8 to 28Vdc and a variety of mechanical outlines for direct to board PWB or chassis mounting, 53080s come in screened grades to suit any particular application and parts quality level. Engineering models deliver from stock to 120 days ARO.