Advantech Wireless will be demonstrating at their new, record breaking, WSM-5000 DVB-S/S2/S2X High Throughput Wideband Broadcast Satellite Modulator designed to transmit carriers of up to 600 MHz.
The WSM-5000 supports single carrier data rate up to 500 Msps (600 MHz) with an improved 1 percEfficiency improvements of up to 30 percent result from the combination of single high throughput carrier operation on a typical HTS transponder, the lowest roll-off in the industry, unpaired signal clarity, low SNR support and the Ultra-Fast ACM+AUPC compensation capabilities of the WSM-5000.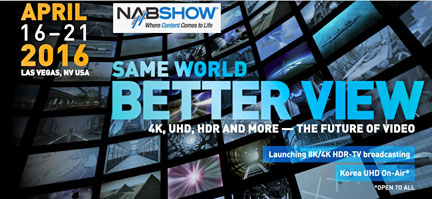 The new Wideband Broadcast Satellite Modulator was developed to meet the needs of broadcasters as well as broadband providers. The WSM-5000 supports ETSI EN 302 307 DVB "Annex M" features such as time slicing, to enable the mixing of broadcast and broadband services over the same satellite carrier for improved deployment flexibility; allowing deployment of this efficient transmission architecture in virtually every HTS network.
This new product will be on display in Advantech Wireless' booth SU2802 at NAB2016 in Las Vegas, Nevada, along with a complete range of broadcast and HTS satellite networking and RF products.
Additionally at NAB2016, Advantech Wireless is going to present the details of their Ultra HD ready satellite solution for broadcast applications at a meeting of the Sociedade Brasileira de Engenharia de Televisão (SET).
Anderson Markiewicz, Vice President, Sales, Latin America at Advantech Wireless, will discuss the latest developments of using Gallium Nitride (GaN) technology SSPAs for Ultra HD TV transmission and Advantech Wireless' A-SAT-II™ solution that dynamically adapts to multiple applications to minimize and automate network operation, optimizing the use of the satellite resources, and providing best user experience. Designed to guarantee reliable transmission over satellite even in harsh and hostile conditions, Advantech Wireless solutions for Broadcast Applications enable mobile TV contribution in High and Ultra High Definition.