CompTIA's
Space Enterprise Council (SEC) has contributed a satellite exhibit to the National Electronics Museum in Baltimore.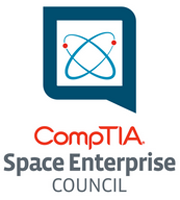 "Satellites: Transforming Our Lives," a new, permanent exhibit now open to the public, focuses on how satellites affect our everyday lives and offers a glimpse into the future of the industry. The history of satellites and an examination of the key issues, challenges and applications related to satellite technology are also part of the exhibit.

David Logsdon, senior director of the CompTIA Space Enterprise Council, reported that the organization was grateful for this opportunity by the National Electronics Museum to contribute to this amazing exhibit. CompTIA expects more than 50,000 school kids will visit the museum exhibit over the next year and the hope is that this exhibit will help to inspire students to pursue careers in the fields of science and technology. Visitors are immersed into the real world of satellites — whether its tracking a storm or navigating around a strange city, satellites are there to help."
Logsdon said the member companies of the Council provided valuable input for one of the interactive exhibits titled "What Can We Do With Satellites," which focuses on the benefits of satellites in the areas of communications, weather and remote sensing, navigation, and GPS. Using a touch screen, visitors can select one of six general topics such as farming, the environment, news, or entertainment. Opening each topic unveils more information, presented with clear, insightful text and stunning imagery. The interactive exhibit shows the viewer how satellites work, what they can do, and the benefits of satellite technology.
Founded in 2000, the CompTIA Space Enterprise Council represents all sectors of the space industry, including commercial, civil, and national security interests. Collectively, the Council brings a unique voice to policy discussions centered on space and innovative technology convergence, exploration, and the impact of the space program on economic prosperity and national security.