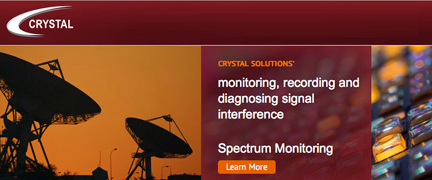 [SatNews] Crystal Solutions has announced a suite of solutions that are aimed at ensuring Operational Resiliency (OR) and Business Continuity for Video Distributors and other satellite users.
The suite of solutions includes a number of important tools to ensure Operational Resiliency, including:
Diverse Site Switching, manages switching between locations to ensure video and data distribution is maintained, particularly useful under rain fade conditions for satellite or backhoe conditions with terrestrial connections.
Automatic Uplink Power Control, adjusts the power level for satellite transmission to the right level to overcome atmospheric interference, without oversaturating the satellite. The solution can be applied to existing amplifiers, beacon receivers, or radiometers, and deployed without the purchase of additional hardware.
Redundancy Protection Switching, manages control of equipment and routing of video and data signals through Ethernet, SDI, ASI, Coaxial RF, and Waveguide switches to ensure continuous connectivity.
Disaster Recovery, recovers distribution through increasing levels of complexity, based on the severity of the disaster condition.
All of the solutions in the Crystal Operational Resiliency Suite are customized during design and implementation to ensure unique network needs are addressed. The solutions allow network engineers to plan complex recovery scenarios under calm conditions that can be easily and automatically applied under stressful situations by the Crystal System. Switching can be initiated entirely by operators or completely automated per the customer's desires.

"Video Distributors and Uplinkers continue to be under pressure to minimize network outages, while their network complexity has increased significantly," said Roger Franklin, President and CEO, Crystal Solutions. "Our OR Suite of solutions gives network operators the tools to simplify distribution in this new complex reality, regardless of external factors."

Crystal Solutions will be attending CommunicAsia in Singapore June 17 – 20, 2014.
Additional information is available at the Crystal Solutions infosite: http://www.crystalcc.com