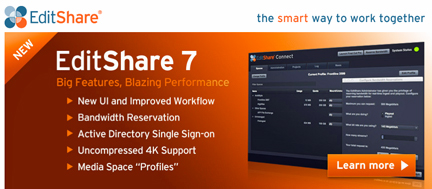 [SatNews] EditShare® will reveal its latest and most advanced shared storage platform, EditShare Storage v7, at NAB 2014 (booth SL5709).
Built on the newest, high-performance Linux kernel, EditShare Storage v7 delivers higher stream counts, higher total throughput and smoother operation than ever before. The enhanced operating system incorporates a new Quality of Service (QoS) system that allows authorized users to reserve bandwidth for high-priority real-time activities such as capture and playout. At the network level, EditShare Storage v7 introduces support for Active Directory Single Sign-On (SS0) as well as the SMB2 networking protocol, enabling uncompressed 4K over 40-Gigabit Ethernet as well as improved performance with standard 1-Gigabit and 10-Gigabit connections. The new v7 release also includes a completely revamped "EditShare Connect" client application with many new high-value features including "Project Profiles," an innovation that lets users and administrators define groups of Media Spaces that should get mounted for different projects; support for using AFP-mounted spaces as Final Cut Pro X SAN Volumes, giving FCP X editors the ability to store "Libraries," "Events" and "Projects" on high performance central storage; and localization support for virtually any language.
New EditShare Storage v7 Features in detail
Within EditShare Storage v7 is a powerful new Quality of Service/Bandwidth Reservation system that integrates with EditShare Flow, Geevs and Ark. Geevs and Flow automatically get prioritized for real-time ingest and playout, while authorized NLE editors also get the ability to reserve disk bandwidth for high-priority real-time capture and playout activities that can't risk a dropped frame. Having the ability to reserve bandwidth lets you leverage your system's performance to its absolute full potential, while ensuring that workstations that require real-time guaranteed performance are prioritized.
The EditShare Connect interface has been completely rewritten for EditShare Storage v7, and the changes go far beyond cosmetics. The new EditShare Connect includes many new features that have been introduced as a result of feedback from customers.
As the name suggests, "Project Profiles" provide administrators and users with the ability to construct project-based profiles that permit the speedy mounting of just the Media Spaces – or network volumes – required for a particular assignment. Often, if editors are working on several different projects, they might be members of tens or even hundreds of media spaces, and mounting the right spaces for the right project can be a time consuming and error prone process.
EditShare is the only storage solution that permits users to store FCP X "Libraries," "Events" and "Projects" on AFP-mounted network storage volumes. This allows users of FCP X to leverage the power and reliability of EditShare network attached storage without the expense and management complexity of a SAN.
In response to requests from its enterprise customers, EditShare has added full support for Active Directory Single Sign-On. Unlike simple password synchronization that is offered by other storage solutions, Single Sign-On enables a user to log in just once to his or her workstation, using the standard Windows or Mac login dialog. No further username or password dialog is necessary to access any aspect of the EditShare ecosystem, including EditShare Connect, Flow and AirFlow.
Attendees to NAB can request a private demonstration to see the EditShare Storage v7 release at this direct link.