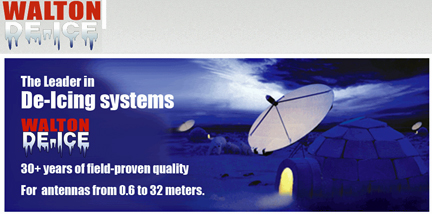 [SatNews] W.B. Walton Enterprises Inc. (Walton De-Ice) has expanded their production capacity at new facilities in San Bernardino, California facilities.
Walton De-Ice spokesman David Walton said of the ribbon-cutting, "Our move has been driven by demand for both our market-leading Walton De-Ice Plenum systems, as well as growth in orders for our newer Snow Shield, Rain Quake and Ice Quake products, thanks to global satellite industry demand from Ka-band, maritime, aeronautical, mobile, VSAT, DTH and broadcast market segments."

The new corporate facility at 4185 North Hallmark Parkway, San Bernardino, California, USA, has increased Walton De Ice's production capacity by 50 percent. Walton De-ice designs and manufactures the broadest line of equipment available for preventing the accumulation of snow and/or ice on satellite Earth station antennas. The company's unique hot air enclosures (Plenum) design mounts behind antennas from 5 to 32 meters, providing the most economical, reliable gas or electric-heated systems on the market. Walton De-Ice's Snow Shield, Rain Shield, and Ice Quake family of antenna covers employ innovative and patent-pending designs that help protect critical satellite networks from degradation and outages due to weather. Gas or electric heated options are available. Walton Ice Quake can enable huge energy savings—up to 100 times—compared to conventional electric-heated satellite anti-icing solutions, while the Rain Quake cover can reduce data loss by 20 times compared to antennas without protection for some types of satellite networks.
The company's new address is: W. B. Walton Enterprises, Inc., 4185 North Hallmark Parkway, San Bernardino, CA. 92407
For further information, please visit the company's infosite at http://www.de-ice.com/