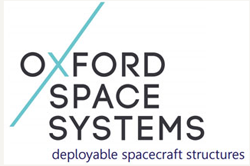 Oxford Space Systems (OSS) was founded in September 2013 to develop a new generation of deployable structures for the global satellite industry that are lighter, less complex and lower cost than existing products in commercial demand.
Using conventional, as well as new proprietary materials under development by the company, OSS is rapidly developing a range of deployable antennas, booms and panel technologies. These are primarily focused to support a new generation of micro-satellites for a range of space based commercial services. The company recently set a record for the industry by going from idea to orbit in less than 30 months with the successful deployment of AstroTube™, the world's longest retractable boom system.
Founder and CEO, Mike Lawton, explained the rationale behind the company's interim fund raise, "On the back of the successful in-orbit demonstration of our AstroTube boom, we're seeing a lot of positive volatility in the business, with inquiries coming in at a much increased rate. We wanted to ensure we had some clear water for the remainder of the year, ideally giving us breathing space to secure one or two of the lucrative flight contract opportunities we're negotiating. One we have clarity of these, we'll be in a stronger position — than the great one we're already in — for our third and more significant fund raise in early 2018. Lawton when on to explain investor interest in OSS, "We targeted a raise of £800,000 (GBP) in this round but had such a good response from existing investors and the opportunity to bring Space Angels on board, that we ended up closing at £1.1 million in new money."
Chad Anderson, CEO of Space Angels, explained the attractiveness of the Oxford Space Systems investment and stated that the deployable structures have a key role to play in enabling new satellite constellations, particularly in regard to size and weight constraints — Oxford Space Systems' suite of products will allow their customers to build much greater capability into much smaller satellites.
As well as private equity investment, OSS benefits from significant co-funding and business support from Innovate UK, the UK Space Agency and the European Space Agency.