[SatNews] Es'hailSat hosted a technology panel session at Qitcom, Qatar's largest ICT event, which is currently taking place in Doha from May 26th-28th, 2014.
The conference session was entitled "At the Cornerstone of Innovation in Broadband & Broadcast: Satellite's Impact on Society." Qitcom is supported by leading technology companies and government departments and is considered an important platform for ICT development and innovation in Qatar, the region and internationally.
Es'hail 1, Qatar's first satellite was launched on August 29th, 201,3 and officially entered service on Qatar National Day, December 18th, 2013. The Es'hailSat satellite program will help to meet the rapidly growing communications needs in the region and is the first step in the development of a sustainable national satellite industry as part of the country's 2030 vision.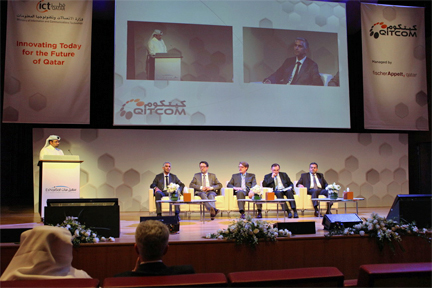 As a Platinum Sponsor of this event, Es'hailSat has major presence at Qitcom. The Satellite & Broadband Panel session, hosted by Es'hailSat, is dedicated to understanding the vital role satellites play in ICT infrastructure and their impact on the media landscape in Qatar, in terms of access and content. Both the keynote speech and panel discussion will feature major players in the international satellite, space and media industry involved in the manufacture, launch and network management of satellites.
On the exhibition floor, Es'hailSat is showcasing Es'hail 1 and it's future satellites. In addition, Es'hailSat is providing a Satellite Communications Industry Zone which enables visitors to discover the wider world of satellite communications, including stands from satellite manufacturers, launch vehicles, network infrastructure providers and communications end-users.
Ali Al Kuwari, Chief Executive Officer of Es'hailSat, said, "We are delighted to participate once again at Qitcom, a vital hub for ICT development in the region. With our first satellite Es'hail 1 currently providing premium content for the MENA region and with future satellites planned, we aim to attract customers who value our communications independence, quality of service and market penetration. Our sponsorship of Qitcom, further demonstrates our commitment to become a technology leader, world-class satellite operator and center of excellence in the region."
The Es'hailSat infosite may be accessed via http://www.eshailsat.qa/