[SatNews] ETL Systems, a global designer and manufacturer of RF distribution equipment for satellite communications, has launched a new range of RF over fiber equipment called the StingRay series.
The first of this range is a high density 1U rack mountable chassis housing 16 hot-swap transmit and receive RF over fiber modules and is designed to be used for short distance links between satellite dishes and the teleport.

"This is the most compact unit of its kind on the market, capable of fitting the greatest number of hot-swap transmit and receive fiber modules in the smallest space," said Dr Esen Bayar, Technical Director of ETL Systems. "We have focused on excellent module to module isolation and this StingRay fiber chassis helps satellite teleports with transition distances up to 5km."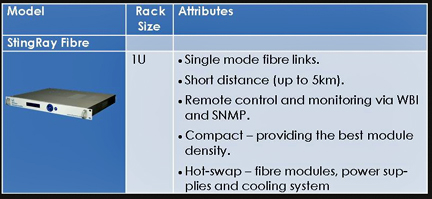 The StingRay is the first to introduce hot-swap power supply units (PSU) in a 1U RF over fiber chassis and also features local as well as remote control. With its hot-swap fiber modules it can be part populated and helps the teleport engineers to design fiber links within budget.

"This new RF distribution range strengthens ETL's position as an established player in the RF distribution market and broadens our capability, making it easier for system integrators to exclusively choose ETL technology for RF distribution in all scenarios. The first of the Stingray Fiber range will soon be joined by other designs with many new and different features," added Dr Bayar.

ETL Systems is launching the first design, which will be produced and tested at ETL's purpose-built facility in the UK, at CABSAT 2014 in Dubai and SATELLITE 2014 in Washington. These two key industry trade shows are running concurrently in North America and the Middle East this March.

For further information about ETL Systems visit http://www.etlsystems.com/.